Won! The Moodsters Feelings Flashlight & Scary Sleepover Storybook Set Ended 11/8
We're getting deeper into Autumn and the days are getting shorter, and darker, and our kids are getting more and more aware of their surroundings and…afraid of the dark. That's why I'm excited to be offering you the chance to win this book and toy set from The Moodsters; it's an awesome survival tool for kids 3+. There's something about those moments just before naptime and bedtime that can be so special with a preschooler. They offer a sweet opportunity to hear what's on your child's mind: their imaginings, their concerns, their silly jokes. This is also a great time to talk with your child about emotions: While they're feeling comfy and safe, you can ask them gentle questions about feelings, and hear in their own words what they're feeling inside. And in a darkened room, The Moodsters can shine a light on feelings in a whole new way!
Enter for chances to win this brilliant set created by moms and Yale University to help kids feel empowered instead of overwhelmed by their emotions. There are 13 ways to earn entries. And, you can earn more entries daily! Enter by 11:59pm ET November 8th, 2015. MSRP $19.99
Enter here:
Metro Mom Club Moodster Feelings Flashlight Giveaway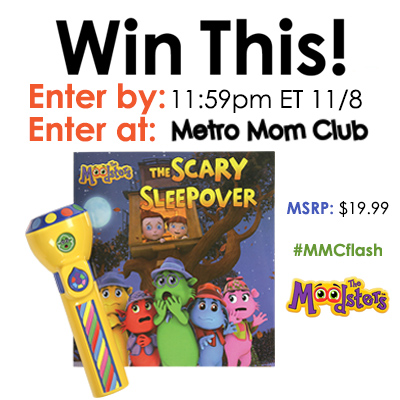 Feelings Flashlight™ and Storybook: Shining a light on feelings has never been easier or more fun than with The Moodsters! Before naptime or bedtime, point the flashlight toward the ceiling or a wall, and The Moodsters will magically appear, offering wisdom and humor for every emotion. Includes full-color, 32-page storybook, The Scary Sleepover. Ages 3+
With The Moodsters Feelings Flashlight, your child can turn the dial to the Moodster who represents the emotion they're feeling at that very moment, push the Power Up button, and project an image of that character on the wall or ceiling. Hear the Moodsters talk about feelings and impart simple strategies to manage their emotions. Or read the accompanying storybook together, The Scary Sleepover, where The Moodsters help Zach face his fears and save the sleepover! The Feelings Flashlight is a fun new tool to help illuminate little ones' feelings and build those all-important emotional intelligence skills!