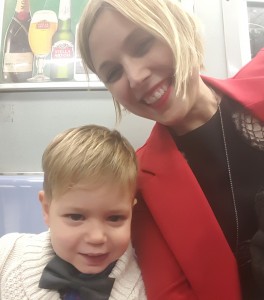 About Metro Mom Club: 
Metro Mom Club was created in February 2015 by me, Dana Holmes, to help urban moms live stylishly while raising thoughtful, brilliant and bad ass kids. I'm a Brooklyn mom with a knack for finding well designed, useful and high quality stuff for your life with kids. Because I love finding cool stuff,  I also love hosting giveaways! What better way to share something rad than to give it to you for free?! I also can't resist researching and compiling smart tips to help families raise kids that we're proud of and live more satisfying and pleasant lives.
I've worked in trend forecasting, buying and merchandising for over a decade. And as a lifestyle expert I have shared my shopping and etiquette tips and other lifestyle advice with everyone from Real Simple to the New York Times; Fox & Friends to TODAY. After my son was born, I started Metro Mom Club to be a home for rad women and families who don't want to sacrifice their sense of style, uniqueness and appreciation for quality after we have kids. It is possible to shower, live a little, and take pride in your home while raising well-mannered, smart, creative, healthy and cool little people! Seriously! It is!
Dana is also owner of Dana Holmes Media, L.L.C., a branding, media strategy and content agency, where she helps brands be real by finding their unique voice and sharing it with who matters most.
Work with us!
We're always open to rad brands who want to partner with us, whether it's for a product review, giveaway, sponsored blog post or newsletter, event, advertising or other activation. We love working with brands that we believe in and that our audience also will, or already does, LOVE. Please email: MetroMomClub@Gmail.com to talk about the possibilities.
We accept samples for review and giveaways at:
6188 Dry Harbor Road, 5G
Middle Village, NY 11379
Contribute!
We also love featuring content from rad moms around the world! If you're a Metro Mom and want to contribute a story or skill to the our cause, please email us at MetroMomClub@gmail.com. We would love to support and share your tips, ideas, cause, passion, product, photos or educated rant.
Who is Metro Mom Club's audience?
We are affluent, educated, design savvy, edgy moms i.e. influencers, who have kids who are generally under the age of 10. We're passionate about raising thoughtful, cool kids. We don't want to use too much plastic, we eat mostly organic, we support local artisans, we like to cook, we like to create a stylish and pin-worthy home, we take pride in everything that we do, we want to instill values in our kids, we want our kids to be as stylish as we are, we want to be up on the latest trends for raising a family and everything else.
We're most active on Pinterest, followed closely by Twitter, Facebook and Instagram.
We have more than 6K followers and a steadily growing email database.
Be a Wonder Mom!
Wonder Moms is Dana's column for the Huffington Post that highlights a stylish, influential, and inspirational mom each month. Moms are just staying home in house coats these days. Women are staying true to themselves, pursuing their dreams and living stylishly while proudly and lovingly being a mom. Wonder Moms share their insights on how they make it all happen to help inspire the other moms out there who are struggling to find a groove without losing themselves. If you know of a Wonder Mom, please have them contact us at Dana@DanaHolmesMedia.com! We'd love to feature her.
Interview Dana!
To interview Dana for an upcoming story or to contribute, please contact Dana here: 
Don't forget to follow Metro Mom Club on:
Follow Us!
To learn more about Dana's content and branding services, please visit DanaHolmesMedia.com.
Disclaimer: The majority of what you see on this site is objectively my personal thoughts and opinions, but on the rare occasion that I do accept something for free or utilize affiliate links to earn revenue…."Our website may contain affiliate marketing links, which means we may get paid commission on sales of those products or services we write about. Our editorial content is not influenced by advertisers or affiliate partnerships. This disclosure is provided in accordance with the Federal Trade Commission's 16 CFR § 255.5: Guides Concerning the Use of Endorsements and Testimonials in Advertising."