Mega Gift Guide: Unexpected Gifts for Kids
We all know what our kids want for the holidays. They've told us a million times, or we just know what they're obsessed with. But! This is a list of unexpected gifts for kids that will surprise your kiddo and get loads of giddy giggles, too.
And, don't forget to scroll all the way down to see which of these we're giving away. Be sure to comment on this post which toy you'd like to win and we'll pick a winner on the 20th of December. 
Unexpected Gifts for Kids
This shirt is a MUST HAVE for parents with mobile children who plan to hit crowded airports and tourist destinations. The back of the shirt says "If Found Please Call XXX-XXX-XXXX)" Genius!! I'm not saying that it's OK to lose your child, but we have all had that panic and fear that we MIGHT. So, this shirt will help us feel at least a smidge better and maybe even get a laugh or two out of some passersby. This is one of those unexpected gifts for kids that you'll never forget. $23  Sizes 2T to 10!
(pronounced My'Lye)– a charming brand of Danish designed toys. In a crowded world of bright screens and loud sounds, Maileg is a world where mice sleep in matchbox beds and koala bears and polar bears can be best friends – it is the timeless world of childhood imagination. Maileg has added to its world with Princess and the Pea Mouse and her Keepsake Castle Box $50. Hidden within Princess' bed of pastel mattresses is one tiny pea – hand knit with the attention to detail that Maileg is known for. These are magical little toys that capture your little one's imagination. We also love the Travel Pixy $28 and Big Sister Mouse in a matchbox $30. So cute!
Inspired by his children's struggle to move from blocks to more complex engineering toys, dad-preneur Chris Cochella developed Brackitz, which encourages kids to turn wood planks into 3-D contraptions that don't collapse when touched. With just a few tools at their disposal, including wooden planks and one-of-a-kind plastic connectors, children are given the opportunity to use their imagination to construct entirely new worlds by playing on their own or with friends. And since the line is made by a dad, parents can be rest-assured that they are providing their child with a durable construction set that also promotes STEM, no matter what skill level.
One day, when Irish childhood friends Niamh Sherwin Barry and Aoife Lawler were chatting in the kitchen about fairy doors they'd seen in upstate New York, they stumbled upon an idea. What if the magic behind these pieces of wood – which had brought their own children so much pleasure – wasn't just imaginary? What if there was a way to keep the magic alive far beyond simply installing a door in your home? What if, somehow, the doors really did give families access to the world of fairies? Building off of this idea, they started the The Irish Fairy Door Company, which encourages children to expand their imaginations by exploring the magical world of fairies through a clever back story and authentic Irish Fairy Doors (think Elf on the Shelf). These "doors" help fairies easily relocate into human homes, classrooms, garden and woods– and provide a beautiful and unique way for children and parents to interact and play through the power of imagination and belief. Today, every other home in Ireland owns an Irish Fairy Door, and they are continuing to bring magic to American homes each and every day!
These trucks are awesome! They're bigger than Hot Wheelz and still small enough to tuck into a back pack. 1:55 scale if you must know. They're pretty much guaranteed to be the envy of the playground for any die cast car collector or Tonka lover. These sets come with 3 classic TONKA vehicles in vintage styling and a vintage package. And, of course, these vehicles are built Tonka tough, with heavy metal construction and real rubber wheels. Ages 3+
Comment below and you might win a Pac Man or Space Invaders! Check back on December 20th to see who wins! Be sure to say which toy you want to win.
This mom designed ergonomic three-wheeled cruiser is designed for kids 1.5 to 5 years old. The Mobo® Total Tot comes with an easily detachable push bar, a foot rest with grip surface, and a seat belt harness to make this cruiser the perfect combo that makes your kiddo's riding experience more fun, safe, comfy, and easy. It's "Roll-to-Ride" extendable frame grows with your child while offering multiple learn-to-ride stages: from parents pushing child in the cruiser with a push bar (stage 1); parent-assisted pedaling (stage 2); independent riding (stage 3). I really love this because it encourages physical activity while helping develop hand-eye coordination and muscle strength. This cruiser has a sturdy, adjustable frame, comfortable seat, chainless chassis, and never-flat rear tires coupled with fenders that ensure parents' peace of mind. Mompreneur Melody Hsieh launched a brand new product line in 2006 – Mobo Cruisers – a line of three-wheeled cruisers for kids and adults.  Today, Mobo Cruisers is sold through Target and Toys "R" Us and expanding into Canada.  Talk about a super mom! $259.00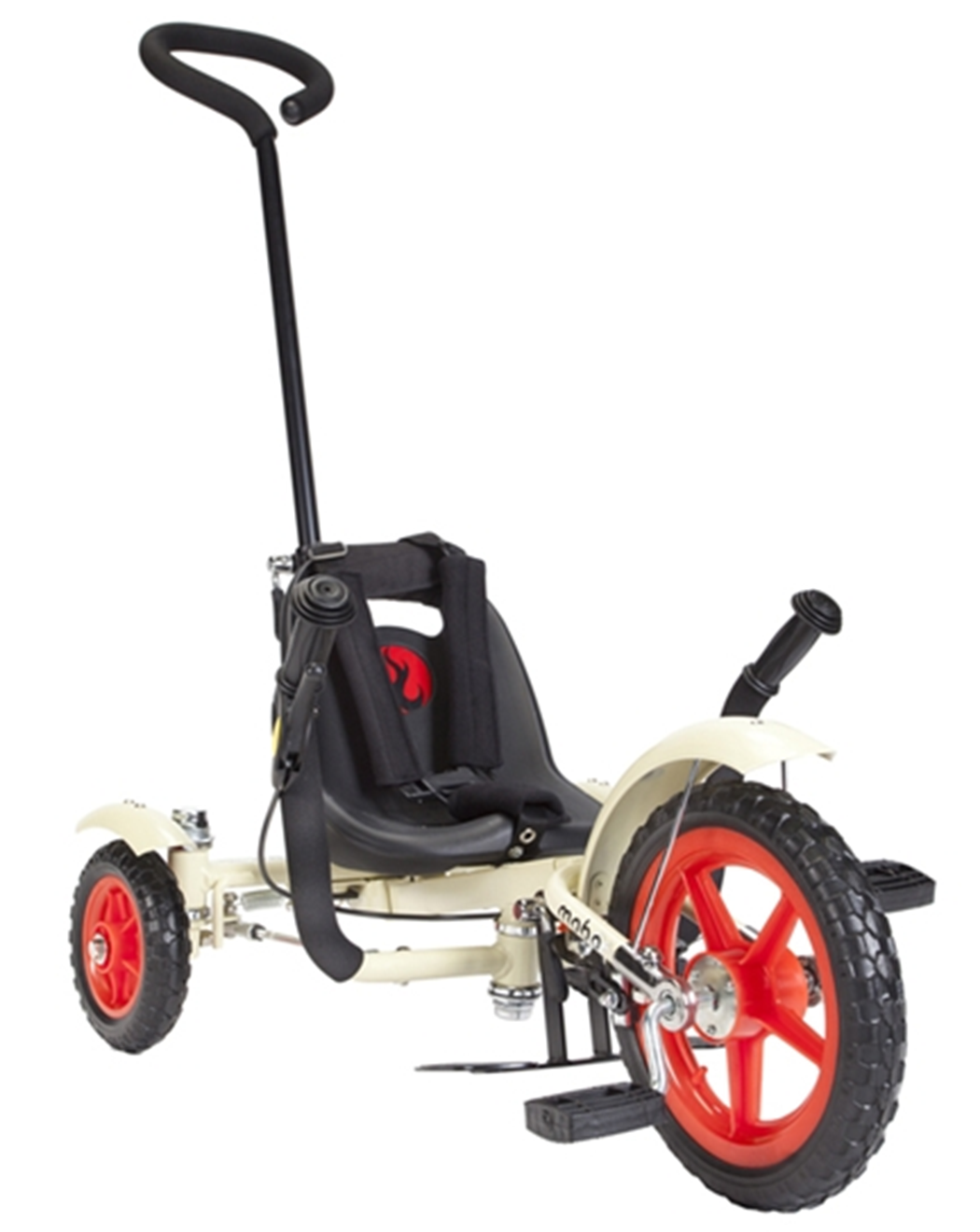 A new puppy may be topping the kids wish list, but is your family not quite ready for the real thing? Ours definitely isn't ready for a real dog but our kiddo is obsessed with his super soft little Peppy Pup. Peppy Pup was the official plush dog of National Mutt Day, on Friday, December 2nd. He doesn't take any batteries but saunters along like a real dog when you pull him by his leash. He can run, jump and wag his tail, all with a tug of the leash. He has special hard plastic paw pads that make it easy for him to walk just about anywhere whether in the grass at the park, on a carpet or on hard wood floors. Your kiddo will be so surprised to get a snuggly, squeezable, sweet doggie for Christmas. And for $19.99 it's a steal. Ours is brown but it also comes in black and white. I'd like to thank TPF Toys for giving us one to try out!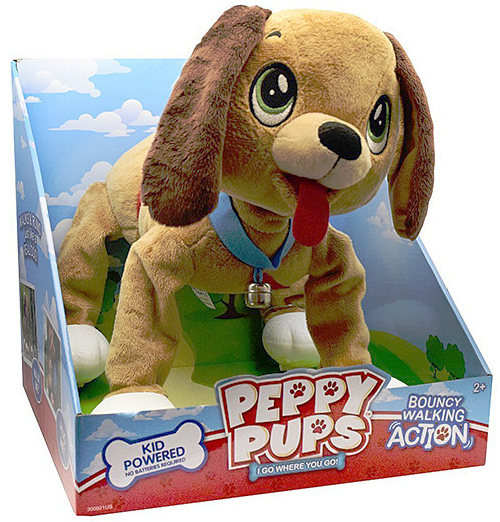 There's no denying that kids (and adults!) love the iconic "Hot Dog" song and dance featured in the beloved Disney Junior series, Mickey Mouse Clubhouse. With the new Mickey Mouse Clubhouse Hot Diggity Dancing Mickey, kids can dance right alongside Mickey Mouse! Hot Diggity Dancing Mickey features five interactive sequences that will have kids laughing and dancing for hours! Boogie to the beat, choo choo like a train, soar like an airplane, and giggle at Mickey's hilarious jokes! Give Mickey a high five after he wiggles, spins and takes a bow! Ages 3+ $44.99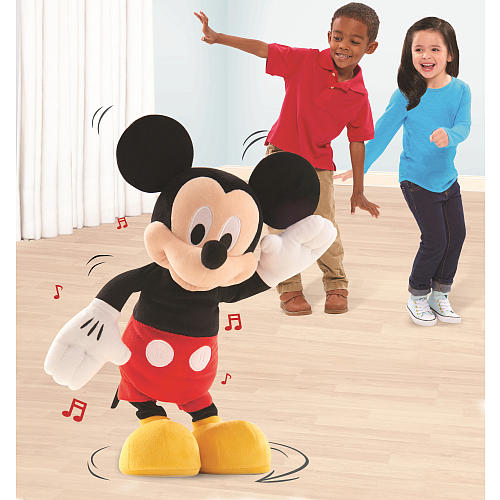 Classic arcade games, Pac-Man and Space Invaders, as adorable mini sized versions that play just like the real thing. These are a fun retro gift for the bigger kids, ahem maybe the husband, dad or grandfather, who loves classic arcade games. They're a perfect travel size for playing on road trips, too! Ages 8+ $16.99
Comment below and you might win a Pac Man or Space Invaders! Check back on December 20th to see who wins! Be sure to say which toy you want to win.
Budsies magically transform any original character artwork or photo into a huggable, loveable, one-of-a-kind plush companion. With just a few simple steps through the Budsies website, it's easy to create a custom keepsake that will be cherished forever. Budsies take about 4 weeks to make, since each one is hand-sewn by skillful artisans. As they are extremely popular holiday gifts, we suggest holiday orders are placed as soon as possible!
See how Budsies are made: 
There you have it! Some toys and treats that probably weren't on your radar, or your little one's radar, but will make a huge splash on Christmas morning. I'm trying to get a baby guide out in the next few days as well so stay tuned if you have the tiniest of wee ones on your list. Happy holidays!