Thanksgiving Family Road Trip Products You Need Now
Along with turkey, Pilgrims and pumpkin pie, Thanksgiving also conjures images of a family road trip to grandma's house. According to AAA, more than 40 million Americans will travel at least 50 miles this Thanksgiving, and nine out of ten holiday travelers will be driving. You can bet that a lot of the cars on the road that week will have antsy kids in the back. That's why I started this list of ten family road trip products you need now. These unique finds will help make your Thanksgiving road trip run more smoothly and be more stress free than you ever thought possible. Seriously. But, this is just a start! We're looking for families everywhere to share their tips for traveling with babies and kids from toddlers to teens in the comments below!
The zooby Car and Home video baby monitor by Infanttech is the most portable monitor on the market, making it a must-have for traveling parents. With a large split screen, a parent can even view 2 rear facing infants in the back seat of the car at the same time! The wireless monitor includes night vision, rechargeable batteries, and all accessories necessary to use anywhere you and your baby go so it's not just great for the car. Kids will love the super cute stuffed animals that hold the cameras. plush styles! In fact, don't be surprised if Diego the Dinosaur, Jordan the Giraffe, Zachary the Zebra, or Emma the Unicorn becomes your baby's favorite travel buddy. MSRP: $199.99. Available online at www.BabiesRUs.com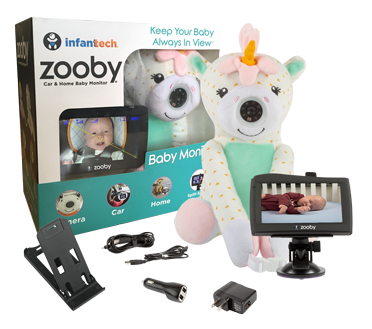 Germs and travel go hand in hand so help keep your family healthy on the go with the Chemical-free Cleaning Stroller & Car Seat Cloth from Baby Care by e-cloth®. This handy travel accessory removes over 99% of bacteria from Strollers and Car Seats using just water and a cloth. No matter what the spill or accident, this cloth is your ultimate wingman to clean up quickly and get back on the road. You use absolutely zero chemicals to clean so it's safe to put your baby back in the seat immediately after cleaning. Even better it's reusable and guaranteed for 300 machine washes! MSRP: $7.99. Available online at www.ecloth.com
Whether you're seeking an alternative to the traditional booster seat or a more portable version of the forward-facing, 5-point harness seat, the certified RideSafer wearable car seat vest is the perfect solution. It's lightweight, portable and easily transfers from one car to another unlike a traditional booster. The RideSafer vest is easy to install in any car, just as safe as a traditional car seat, and is made to fit children from 3-years-old and up adn is legal in all states. MSRP: $149-$159. Available online at www.SafeRide4Kids.com
Keep all of your kids' stuff organized and within arm's reach in the backseat with the Lassig Backseat Car Organizer. Store toys, electronics, crayons, snacks, wipes and more in the organizer's various pockets and pouches. Kids stay busy, the car stays clean, and the whole family stays happy! MSRP: $48.99. Available online at www.buybuybaby.com
Every parent knows the struggle of balancing a toddler or young child on the hip while out and about. The Claessens' Kids 2-in-1 Carrier-Diaper Bag can help parents carry their little ones more easily, while keeping their backs aligned. The adjustable shoulder strap and the soft saddle ensures that both children and parents are comfy. This uniquely designed diaper bag eliminates the need to travel with a stroller or other bulky equipment for everyday outings. MSRP: $69.99 Available online at www.claessens-kids-usa.com/
Expectant moms also need to stay safe while in the car this Thanksgiving. The Tummy Shield™ is the ONLY pregnancy seat belt that protects an unborn baby in the event of a crash by effectively redirecting the seat belt away from the pregnant belly. The patented design secures the seat belt at the legs, not the belly or hips. The crash-tested design ensures the belt stays firmly in place without any slippage or dangerous slack. It is perfect for new moms still recovering from a C-section or anyone who has recently undergone abdominal surgery. MSRP: $149 Available online at www.saferide4kids.com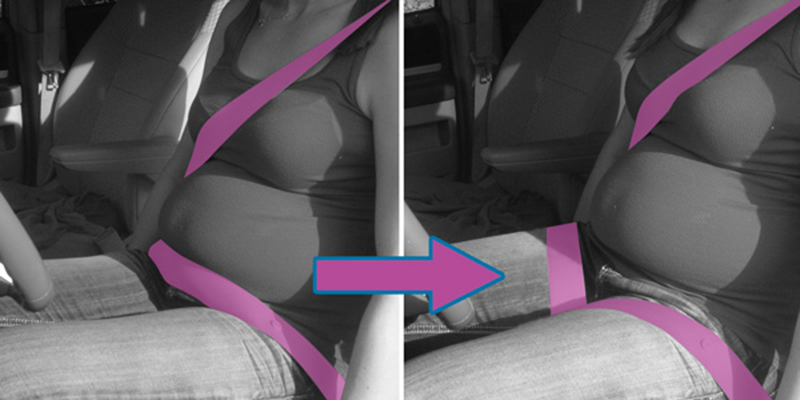 Entertainment is a must on a long road trip with a baby or toddler. That's why the Music Drive & Go by Playgro is a must! Your little one will stay engaged and entertained by the squeaker horn and indicator sounds which stimulate auditory development. The gears and twisting, spinning features will stimulate baby's fine motor skills, while the colorful textured rings are great for teething. Velcro straps make it easy to attach to the carseat so baby can be behind the wheel just like mommy and daddy. For ages 12 months+. MSRP: $29.99. Available online at www.Amazon.com
Feed your baby on-the-go without worrying about making a mess, with the Silicone Feeding Spoon by Marcus and Marcus. The silicone containers hold up to 3 ounces of baby food and dispense one bite at a time. The BPA-free, PVC-free and phthalate-free product can be safely warmed directly with hot water or a microwave oven. The hygienic stand-up base keeps the spoon from rolling over or touching any surface…the handle keeps it elevated when resting. MSRP: $10.00. Available online at www.amazon.com.
Families traveling with more than one child will definitely appreciate the Belkin Rockstar Multi-Headphone Splitter. You can connect up to five headphones to one device so that children can share music while wearing their own individual headphones. And that means parents are saved from having to listen to the same repetitive children's songs over the stereo speakers during the entire road trip! MSRP: $17.48 Available online at www.amazon.com.
What other family road trip products can you not leave the house without when planning a road trip with your little ones? Please share!