Brooklyn BabyFEST 2015 and SchoolFEST 2015 are Coming!
Whether you're a mom-to-be, the seasoned mom of a pre-k-er, or anywhere in between, Brooklyn BabyFEST 2015 and SchoolFEST 2015 are guaranteed to be fun and informative outings. The events take place on Saturday, November 7th in north Brooklyn. Tickets are $10 for either event if you purchase them online. Otherwise, they're $15 at the door. Giftbags will be given to the 1st 100 attendees so if you can swoop in before nap time, you're in luck!
Test out the best and newest baby and kid friendly products on the market in our lovingly coined "Toddlertown" neighborhood (Greenpoint) this weekend, November 7th from 12pm to 4pm. There will be raffles for prizes, opportunities to get pampered, snacks, mocktails and an option to create a baby registry as you peruse.  You can also attend seminars on subjects like babywearing, baby and infant sleep, fatherhood, and preparing for your baby.
Learn more about and get tickets for Brooklyn BabyFEST 2015
---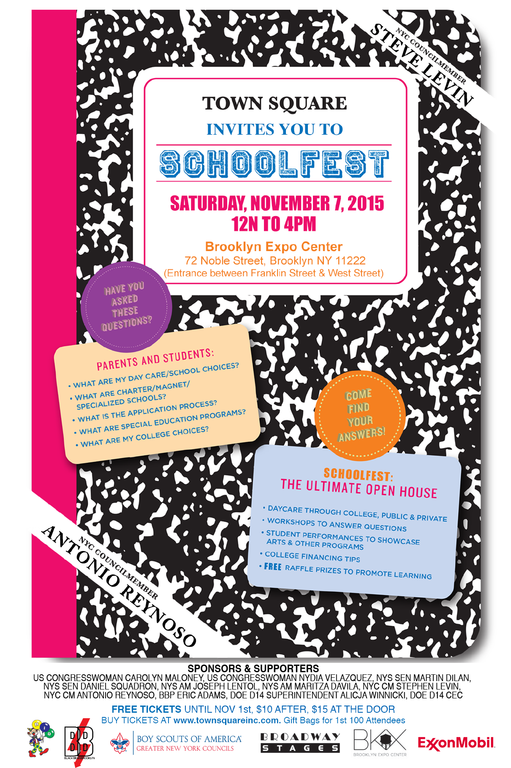 For parents with older kids, the SchoolFEST portion of the Brooklyn Expo Hall event will feature, for the 8th year in a row, neighborhood day cares, preschools and elementary schools sharing information on school choices, admission processes, policies, philosophies and networking opportunities for parents and educators that will help improve our schools and help you make the right choice for your kids.
Learn more and get tickets for SchoolFEST
---
These events are sponsored by North Brooklyn nonprofit Town Square Brooklyn nonprofit, NYC Council Districts 33 & 34 with special thanks to NYC CM Stephen Levin & NYC CM Antonio Reynoso.
The Brooklyn EXPO Center is located at 72 Noble Street @ Franklin Avenue in Greenpoint, Brooklyn