10 Delicious Apple Recipes
We went apple picking last weekend and had a blast. It was awesome to see my little guy picking fruit off of the tree and eating it right there. The connection with food and nature is a major discovery to a little kid and I'm so glad that we took him to experience it. But, once we got home with our peck of picked apples I realized that I didn't really know what to do with them. I can make some seriously delicious apple sauce and can whip out an apple pie. But that's pretty much the extent of my apple knowledge. So, I did one of my favorite things…research! And I found 10 apple recipes that you probably haven't tried before but will love when you do. Why? Because we can't be the only family who went apple picking and came home with too many apples to eat before they go bad. And, maybe you'll find a new Thanksgiving recipe that your table (and guests) will thank you for for mixing things up.
Which recipe sounds best to you? What do you make with apples when you're tired of eating them raw and don't want to make any more apple sauce?
Here are 10 ideas of what to do with your fall apple surplus!
Apple parsnip soup – This is an awesome appetizer or 1st course idea for Thanksgiving. I'm dying to try it out!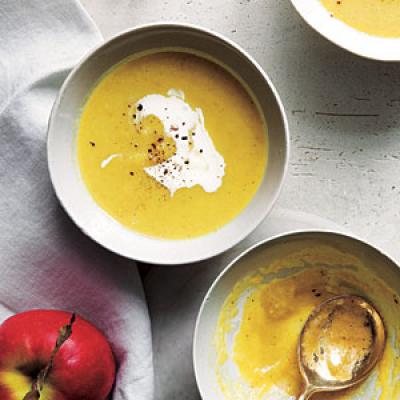 Baked stuffed pumpkin – This is a beautiful way to start off Thanksgiving dinner or any fall dinner party. Pumpkin is so overlooked as an edible option and the flavor is so yummy when mixed with apples and cranberries. Seriously, you gotta try this.
Apple Sangria – Mix up a batch of this for your guests whether they're over for cocktails, a play date or a proper feast. It's easy enough to throw together and is actually something you can drink without feeling too tipsy, hence, the play date reference.
Candied Yams with Apples – Here's a side dish that you probably haven't tried but after you do, it'll be making regular appearances on your table. Here's why: kids love it, it's easy to make and it's impressive to people who don't know about it yet. Just get out a good chopping knife and queue up your kitchen timer.
Spiced Pork Tenderloin with Sauteed Apples – Here's an easy way to whip up dinner on a weeknight while also using up some apples. The complex seasonings make this a quick dinner that tastes pro. Serve it with a spinach salad or on top of some wilted spinach and you have a healthy, delicious and super fast dinner.
Curried Chicken and Apple Salad – This has been a staple in my household since I first tried it at a restaurant in Manhattan in 2007. There's something so yummy about the combination of curry, raisins and apples. Even if you're not usually a fan of any of those ingredients, I suggest you try this  just once. It's a crowd pleaser. It can be a great appetizer in endive boats. It can be a great lunch on bread, in a  pita or on a bed of lettuce. It's a healthy snack to nosh on when you don't really feel like making something. I like to make a big batch of it and watch it disappear. It rarely lasts more than 24 hours.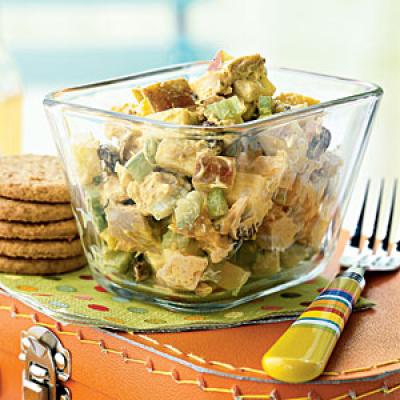 And now for the desserts.
I mean, that's what we all really think about when we think about apples, isn't it? But you can go so far beyond the standard apple crisps and apple pies. Oh yes. And here are just a few ideas that I can't wait to try!
Apple Upside Down Cake – You don't have to reserve the upside down cake just for pineapple! Oh no you don't. You can layer in some apples just as well and man is it tasty and fun for kids to help with. You've got to let your kids help or at least witness the big reveal at the end when you flip it out of the pan. It's awesome.
Apple Pie Cookies – These aren't much harder to make than a back of sugar cookies but the pay off is SOOOOO much better. Each cookie is basically a little apple pie. Yum. You can leave out the raisins if you're not a raisin fan. My kiddo is a freak about raisins, like he loves them, so I'd probably put a few extras in my recipe. These are fun to make for a fall play date or birthday party or just because you love yourself. That's a perfect reason, actually!
Apple Dutch Baby – Now, I'm not going to lie, this will take some time to make and it won't be pretty. But you will freak out when you put it in your mouth. It's a perfect fall brunch dish. A dutch baby is a puffy mess of a pancake and this recipe has a syrup recipe to layer on top that will make for an unforgettable experience.  Seriously. Make it look gross and everyone will be shocked and talking about how amazing it was for a good long time. Besides, the name is fun, right? It was coined in Washington in 1900 as a play on Deutsch, meaning German, because it is an offshoot of the traditional German pancake.
Stacked Applesauce Cake – This is just too pretty to not post. But I wish that the image was larger! Oh well. Thanks anyway Country Living for the recipe and concept. I love the contrast of the dark layers and the light whipped cream in between. It seems easy enough to prepare and assemble and the presentation is lovely. This is a great way to end a fall dinner party.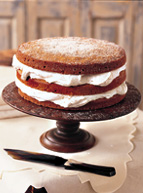 Special thanks to all of the sites whose recipes are featured here:
Sugar and Spice and All Things Iced