Won! Fisher Price Classics Ended 10/11
I was so excited to see these Fisher Price reissues when they relaunched them. There's something magical about the thought and care that went into designing each of the Fisher Price Classic Toys. No wonder I remember the toys so vividly. That's also why I'm super excited to be giving some of them away to one lucky winner (and their kids). Yup, I'm giving away one Fisher-Price Classics Cash Register and one Fisher-Price Classics Musical Ferris Wheel to make for one amazing grand prize worth $59.98. There are 11 ways to earn entries and you can earn more entries each day through October 11th. So, enter now and enter often and you're on your way to possibly winning two truly amazing toys.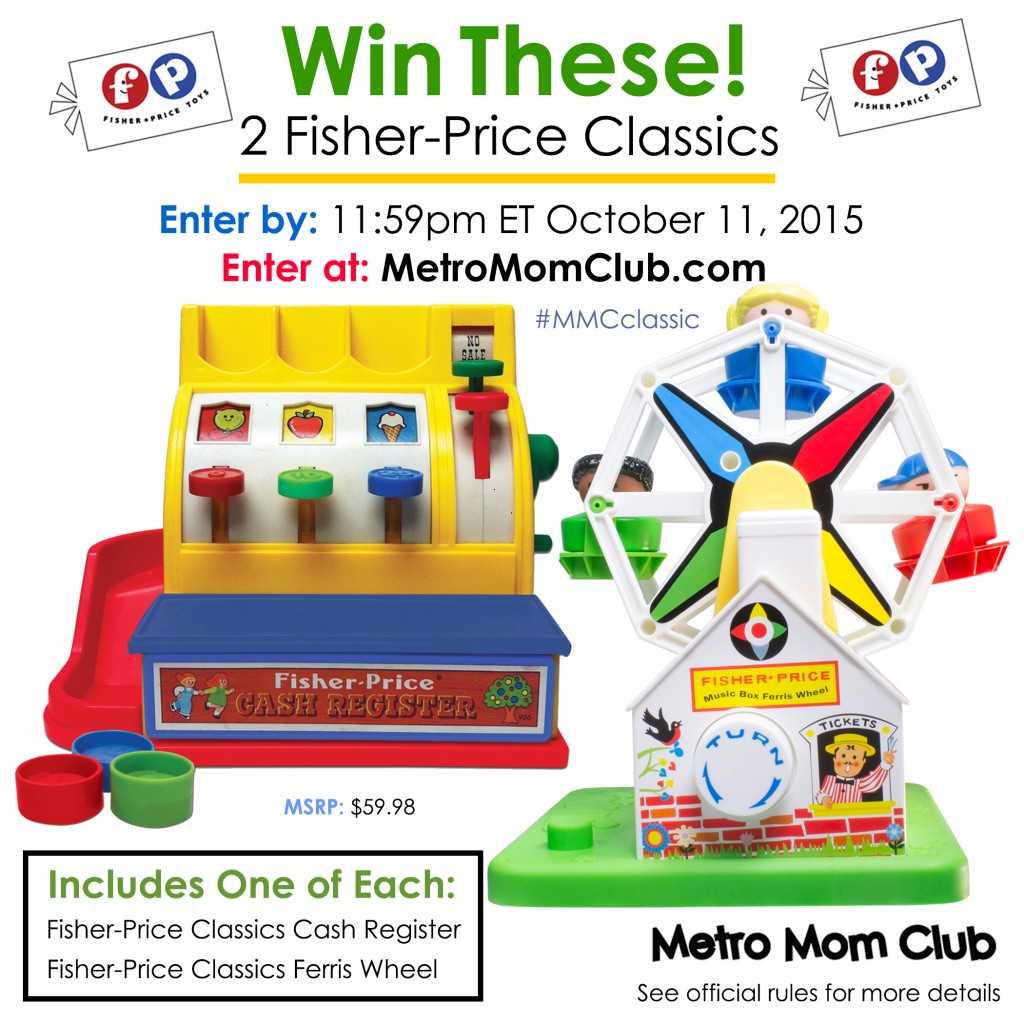 I was obsessed with my Fisher-Price toys when I was a little girl. I loved ringing up sales on my little cash register, playing records on my little plastic record player and collecting every piece of the Little People town that was perpetually expanding. Of course, you can't not shout out the popper, the phone with the roving eyes, the hand-cranked movie viewer, the clock, the farm animal sounds pull-string toy, I could go on and on. What was your favorite when you were little? There's no denying that Fisher Price has been making play time smart, cute and fun for American kids since 1930. Snatch up a couple of these classics and show your kids what real toys do.
Enter Here:
Metro Mom Club Fisher-Price Classic Toys Giveaway

Grand Prize Consists of:
Fisher-Price Classics: Cash Register Inspired by the 1975 Fisher-Price Cash Register that was an instant hit, kids will love to explore real cash register play!  The Cash Register comes with several different kinds of brightly colored coins to teach children about counting and color recognition.  Match the coins to their correct color-coordinated slot, press the levers and watch the change come down the ramp.  Press "sale" button for the coins to go into the drawer. Turn the crank to hear the bell ring and watch the drawer open! For Ages 2+, MSRP: $34.99
Fisher-Price Classics: Musical Ferris Wheel First introduced in 1966, the Fisher-Price™ Musical Ferris Wheel delighted children and parents with its whimsical music and Play Family characters.  Wind the knob and it plays a tune as the Ferris Wheel revolves.   The four "passengers" in the swinging bucket seats are removable for even more play value. For Ages 2+, MSRP: $24.99