Wonder Mom: Visual and Performance Artist Jen Ray
Jen Ray is a visual and performance artist (and mom) who has been making her unapologetic bad ass art since about 2005 in New York City. She calls the city home but she was raised in North Carolina (and you can still hear it in her voice, just a little). She lived in NYC from 1999 to 2005 and then moved to Berlin, Germany to go deeper with her art. And, now, she's back in NYC. Jen has performed and shown her art of the "ugly and the beautiful" all over the world. In fact, her CV reads more like a travel wish list with places like Paris, London, Los Angeles, Berlin, Zurich, and on and on. Yes, we're jealous! Her husband Jason is a musician who is also involved in design and consulting. Her son Max is…well…hilarious. Through a lot of hard work and a little bit of magic, Jen Ray finds her balance between being a totally rad artist and a spectacular Wonder Mom at the same time. Here's how she makes it happen…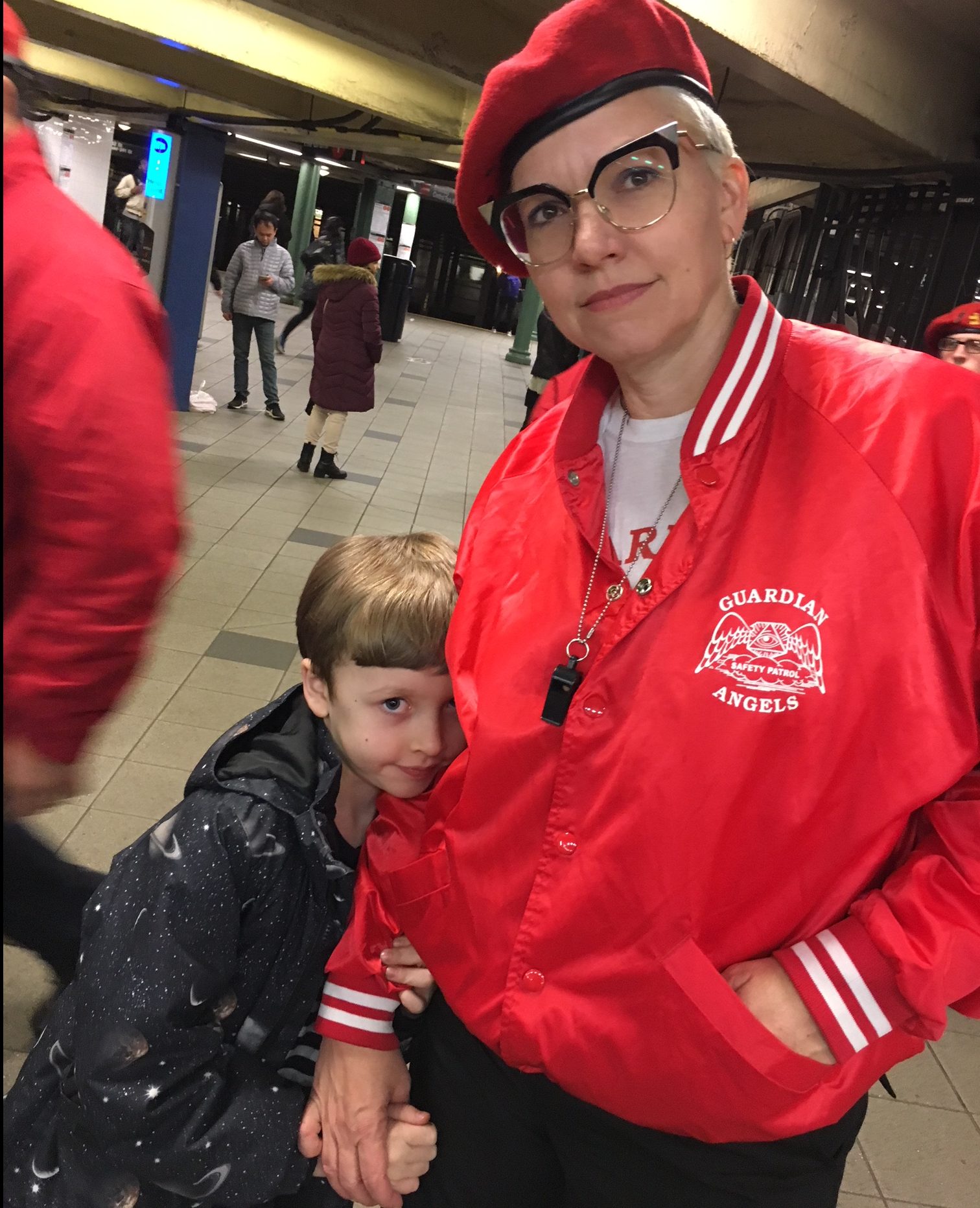 WHAT DO YOU DO?
I'm an artist who uses music, dance, and visuals to tell stories about women. I'm a member of the Guardian Angels. I maintain an artist's studio in Long Island City and belong to a gallery in Chelsea, Albertz Benda. Recently I presented a tap dance battle with four female dancers in the middle of Chelsea titled 'Looks That Kill'.
HOW DID YOUR CAREER/LIFESTYLE COME INTO BEING AND HOW DID YOU KNOW IT WAS THE ONE?
I've always created art and was encouraged by my mother (also an artist) to pursue my interests.
HOW HAS HAVING A CHILD TRANSFORMED YOUR LIFESTYLE?
It's made it crazier and also improved it in a variety of ways. We take our kid everywhere and we meet amazing parents all over the world. I'm also now an expert in Lego, trains, and robots.
HOW DO YOU FIND TIME TO GET READY AND MAINTAIN YOUR STYLE?
I use a lot of costumes in my work so I'm involved in style. Maintaining your style helps you to maintain your sense of self. And I always keep trying new things.
WHERE DO YOU GET YOUR ENERGY?
Espresso and 15 min power naps.
WHAT IS YOUR SPIRIT ANIMAL OR DREAM SUPER POWER?
I love the octopus.
WHAT INSPIRES YOU (OTHER THAN YOUR KID)?
NYC, Europe, Art books, The Strand, coffee, design, fast cars and classic clothes.
WHO ARE YOUR ROLE MODELS AND WHY?
Linda Carter as Wonder Woman, so beautiful and powerful. Saturday morning super-hero 'Isis':
ANY WORDS THAT YOU LIVE BY?
'Never Blame, Never Explain'
WHAT IS YOUR FAVORITE THING TO DO WITH YOUR SON?
Visiting the Metropolitan Museum of Art and MoMA. Teaching Max about the city and discovering new things about NY.
WHAT WOULD YOU DO WITH MORE TIME?
Build myself a bigger empire.
HOW DO YOU BALANCE FAMILY AND WORK?
My husband and I work on this a lot, we have a lot of creative/work projects to balance. We bring Max to places that other parents might not. He attends my art performances and he's "DJ'd" in both Berlin and Paris (summer vacation, no rules).
WHAT DO YOU DO TO RELAX?
Read a great book in the bathtub. Watch true crime docs on YouTube.
WHAT TIME DO YOU GET UP AND GO TO BED ON A TYPICAL DAY?
We wake-up at 6:30 AM. I can go until Midnight or after with the afore-mentioned espresso and nap!
WHAT DO YOU TYPICALLY EAT FOR BREAKFAST?
Coffee, two eggs and a vegetable (side of Siracha).
COFFEE, TEA, WINE, TEQUILA, OR OTHER (PLEASE SPEICFY)?
All the above but I also like a very cold vodka gimlet straight up.
ANY ADVICE FOR NEW MOMS, OR MOMS WHO ARE STRUGGLING TO MAKE IT ALL WORK?
Take it easy on yourself. Just have fun and show your kid that you are a person with your own likes and interests outside of childcare, they'll respect you for it.
From Sheryl Sandberg to Marissa Mayer, women are not sacrificing themselves for their kids like they used to. Why? If you ask me, a confident and happy woman makes a better mother and role model. And whatever it takes to get her feeling that way should be done. But as a mother myself, I know how hard it is to maintain a sense of style, run a successful business and to feel like an okay parent all at the same time.
Women who are flawlessly manifesting this enchanting trifecta are the new wonder women of our times and they are my idols. So I got to wondering how they actually do it all and have it all. Is it really possible? Are they hiding something? Do they secretly never floss? I hope to answer these questions and to give the rest of us moms motivation to stay true to ourselves, live fulfilling lives and love our families as much as ever through interviews with moms who are already doing it. These are the Wonder Moms.
If you know a woman who fits this mold, please share her info with me on Twitter @metromomclub