2018 Halloween Party Raffle Prizes
I was thrilled to help provide prizes for the raffle at Q300's annual Halloween party and fundraiser. Q300 is one of New York City's only Kindergarten through 8th grade schools dedicated to the education of the city's top 1% of students (according to somewhat arbitrary gifted and talented test results). They provide an accelerated and enriched curriculum designed to keep those hungry minds happy. The school does not get any more funding than any other NYC public school, so in order to provide the lower student/teacher ratio along with the enrichment programs from mindfulness to music to robotics, fundraisers and events are key. The PTA of Q300 does an awesome job of hosting events to pay for these things. The Halloween Party is a perfect example. And, of course, my favorite part of the party aside from the truly inspiring DIY costumes was the raffle table! Here are the Halloween party raffle prizes that I was able to provide thanks to my AMAZING friends at LEGO, Playmobil, Reindeer in Here, and K'Nex!
Without Further Ado…here are the 2018 Halloween Party Raffle Prizes!
LEGO City Arctic Supply Plane 2018 $79.99
Let's just state the obvious by saying that LEGO City products are SOOOO cool. They all work together to build one awe-inspiring mega-verse. And, no mega-verse is complete without an Arctic research hub in need of supplies. With over 700 pieces…this is everything you need to make it happen from fossils in ice to an airplane almost a whole foot long, and snowshoes with four explorers to wear them and all sorts of little details that make LEGO kits just as fun for the grown ups as the kids. But, kids should probably be around 7 – 12 to do this by themselves (if you can keep your hands off it…DAD!).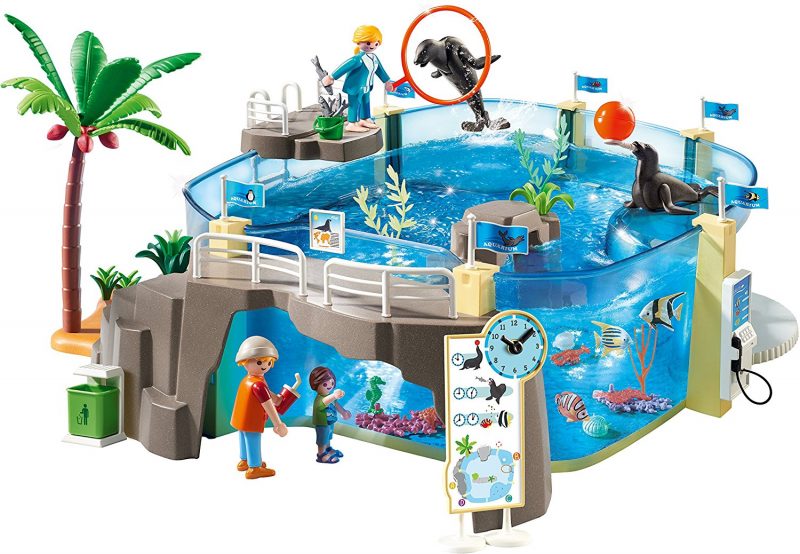 PLAYMOBIL(R) Aquarium Best Toy 2018 $59.99
This set is so cool that it won one of the Best Toys of 2018 from the American Specialty Toy Retailing Association. Almost FOUR FEET across when fully set up, this aquarium makes you feel like you're really there with panoramic views, a deep sea cave, a viewing bubble, and a seal with moveable parts for a realistic show! Any water lover or animal loving kiddo 5-years-old and up will love running their own aquarium. Did we mention that the tank really can be filled with water, too? So cool.
Reindeer In Here positive holiday tradition $32.99
Reindeer In Here is catching on like wildfire. It completely sold out in 2017 and gaining momentum in 2018 with 9 major awards under its belt. Why is this book and plush combo so hot? Because it promotes positivity and generosity at Christmas time. It was invented by a dad who wanted to celebrate the fact that we are all unique and promote positive communication. Reindeer In Here helps Santa get to know your kids better instead of spying on them or putting them on the naughty list. This set starts a family tradition that will have you feeling the holiday spirit all year.
K'Nex Twisted Lizard Roller Coaster VR $54.99
This takes everything we love about K'Nex and catapults it to another level. It comes with everything you need to build an awesome and ferocious lizard roller coaster…including the motor. It also comes with a Virtual Reality viewer and free K'NEX Ride It! app that lets you actually virtually RIDE the coaster you just built! How amazing is that?! Kids are so lucky these days.
The LEGO set was hands-down the biggest draw for raffle tickets at the event and a close 2nd was the PLAYMOBILl Aquarium.
But they all had a lot of tickets in their basket and I was thrilled at the money raised by this super fun event. Thank you so much to everyone who participated. Happy Halloween!
And, if a Halloween party raffle isn't your thing, we have some fun stuff for you to check out, too. Look at these super fun toddler Halloween activities that you can do at home! And, a couple of G-rated Halloween Jokes for you, too.
How does a skeleton make a call? On the tele-bone!
What is a ghost's favorite seat at the restaurant? The boo-th!
Why did the candy make the ghost feel sick? He didn't have the stomach for it!
And, the fine print is that I do use Amazon affiliate links to the products that I write about so that I can make a measly little bonus if you happen to click on it and buy it from my blog post. And, I was given all of these products by the brands themselves to use at the raffle, per my request, because I honestly love them.