Wonder Mom: Shay Begani of Anne + Camp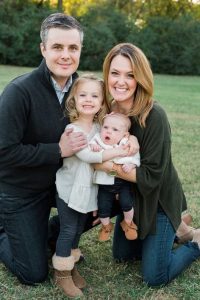 This Wonder Mom is energetic and driven. After finding success in marketing and public relations spanning across corporate and music industries, Shay and her husband, Nate, started a business together. While she was 7 months pregnant with her second child, Shay and Nate decided to create  Anne + Camp, a provisions company that sells simply designed modern teepees for children, that offer an escape from the noise, while fitting with any decor. This change-up lead to the ability to take a risk, create something meaningful for their daughters, and learn to communicate with each other (who needs marriage counseling, right?) She was in the process of transitioning back to the corporate CPG world at an integrated marketing agency and decided to bravely create her own business instead. Shay is all about taking chances and being the rock for her spunky, sassy, curious daughters.
What is it about you that makes you a Wonder Mom?
More than ten years into my professional career and a year after launching Anne + Camp, I can look back and see the impact of my risk-taking, curious mind. Learning the hard way to manage my energy and prioritize my life based on what truly matters, and to invest in myself, I now have the opportunity to pass that wisdom on. And, by golly, I do that with gusto because I wish someone had put things in perspective for me when I was a 20-something who had no clue about life. Seriously… no clue.
How did your business come into being and how did you know it was the one to run with?
I can remember the exact moment Nate mentioned that we should invest in ourselves, our family and our future by starting a business we believe in. Our oldest, Anne Josephine, was our inspiration. The goal was to give her a canvas for adventure and to use her amazing imagination while staying true to our simple, classic style. Our lives are simple and neutral and we were so annoyed with the gaudy, pink chaos that came with children. We created modern teepees for children that give parents back the power – to live simple, neutral lives and still give their little ones the keys to adventure.
How did you fund your business?
The funding was a leap of faith. We had savings and were looking at investment options. That's where the idea of 'investing in ourselves' came from. We had some strong professional skills that complemented each other nicely. We're still small but I like the slow incremental growth.
How long was it until you turned a profit?
We turned a small profit in the first year! But we continue to re-invest in the company and in new products.
How has having Anne Josephine (4) & Mae Miller (1) transformed your lifestyle?
I can't believe how I thought I was "busy" before kids. I find it fascinating that somehow capacity expands – like a muscle. You can juggle more things, remember more things, handle more things mentally, emotionally and physically than you thought humanly possible. My career and personal responsibilities are much more intense and now I have these two beautiful gals who need me to be my best self every day. And, on top of that, I have a husband who would prefer I not be a miserable zombie.
5 words to describe your personal sense of style?
Simple. Classic. Casual. Trendy. Comfortable.
My mother taught me to start with a simple, classic canvas and 'pop' with accessories.
How do you find time to get ready and maintain your style?
Online, online, online! I am a huge fan of the Nordstrom app, the Le Tote app and the Amazon app. I haven't stepped foot in a brick and mortar store in years. I know my size and brand repertoire but I'm not scared to try new things… as long as there is free shipping. Ha!
Where do you get your energy?
While I am very energetic (ask anyone!) my energy is not endless. Finding precious moments to recharge is crucial. I know that my formula to remain balanced has three parts: physical activity, sleep and mental downtime. That's super hard to do without managing my schedule and being flexible. I may think my week is perfectly planned and then – bam – Mae has the flu! So getting creative with time is crucial.
What is your spirit animal or dream super power?
At the risk of sounding cheesy, my spirit animal is my dear friend, Erin Holt. We are two peas in a pod and yet we balance each other so well. When I met Erin, a fellow mom in a similar boat, I was able to open up and share my struggles. After the first time we chatted, she sent me a handwritten note that said peanut butter had found its jelly. She is my superpower. The rest is history.
Who inspires you? (other than Anne & Mae)
One of my favoritest (yes, I know that's not a word) things about this business is the collaboration with other brilliant minds. Watching our friend Riley who is a creative genius pull together branding that so perfectly depicted us, or watching my talented friend Anna so quickly grasp our strategy and run with all the possibilities, and of course our photographer Brett. I am inspired by people who truly want to make a difference and grow.
Who are your role models and why?
My role models are the women and men who have overcome incredible odds and passed their wisdom along to me. I'm thinking of three specific people that I've reported to in my career. They all saw something in me, nurtured my spunk, shared wisdom and life lessons. I find myself channeling all three quite often and my heart just explodes with gratitude. To me the greatest gift any human can give is that of wisdom. We as busy, working moms need to take the time to pass it on.
Any words that you live by?
Happiness is a choice. If you don't like your circumstances, change them.
What is your favorite thing to do with Anne & Mae?
Snuggle. I am such a snuggle monster. I also just like experiencing new things with them. There is no better feeling than watching the look of aw pass across your child's face when they see or experience something new.
What would you do with more time?
Travel more. Read more. Spend time just 'being' more.
How do you balance family and work?
Listen to me now. There is no such thing as balance. It ebbs and flows. My advice is to be clear on your priorities, be clear on the life you are working toward and openly share that clarity with your children. Where possible, include them, make them understand why you do what you do and how it helps everyone, and how they can help. And, don't forget to put your phone down every once in a while and really look at them.
What do you do to relax?
Sip on a big glass of red wine or walk around my neighborhood with the family – or both!
What time do you get up and go to bed on a typical day?
Sleep is a key piece to energy management. I'm an early to bed and early to rise kind of girl. I'm typically in bed by 9pm (don't judge!) but that allows me to get up early and invest in myself before the girls wake up.
What do you typically eat for breakfast?
My day doesn't start until I've had a big cup of coffee and eggs. Breakfast isn't breakfast without protein.
Coffee, tea, wine, tequila, or other?
Coffee and wine are my staples. I joke that every meeting I have needs to be over a cup of good coffee or glass of good wine.
What is something that you struggle with fitting into your lifestyle and how do you deal with it?
I am horrible about making preventative care appointments for myself. It just doesn't seem efficient to me. I finally had to block off several hours and make my dental and OBGYN appointments. I also started Invisalign like three years ago and never made it through the first tray. Seriously, it's paid in full and I can't fit it into my life.
Any advice for new moms, or moms who are struggling to make it all work?
You can't do it all. You simply can't. Figure out what life you want. Get crystal clear on what your priorities are and manage your time to those priorities. And forgive yourself for letting everything else slide. We're humans raising humans. Let them watch you build an amazing, fulfilled life. Oh, and buy them a teepee!
About Wonder Moms:
From Sheryl Sandberg to Marissa Mayer, women are not sacrificing themselves for their kids like they used to. Why? If you ask me, a confident and happy woman makes a better mother and role model. And whatever it takes to get her feeling that way should be done. But as a mother myself, I know how hard it is to maintain a sense of style, run a successful business and to feel like an okay parent all at the same time.
Women who are flawlessly manifesting this enchanting trifecta are the new wonder women of our times and they are my idols. So I got to wondering how they actually do it all and have it all. Is it really possible? Are they hiding something? Do they secretly never floss? I hope to answer these questions and to give the rest of us moms motivation to stay true to ourselves, live fulfilling lives and love our families as much as ever through interviews with moms who are already doing it. These are the Wonder Moms.

If you know a woman who fits this mold, please share her info with me on Twitter @metromomclub