Win! Desk Toys for Dorky Dads Ended 6/15
Our generation has produced a flock of men who are brilliant at understanding the most detailed nuances of technology while still remaining a silly 13-year-old. And, many of us call this new breed of man our husband and the father of our children. With Father's Day right around the bend, June 21st, here are some desk toys for dorky dads who take play time at work as seriously as the bottom line. Playing is how some of the best ideas are discovered, right? And, to sweeten the deal I'm actually giving them away! Yup, you can win almost $70 worth of desk toys and games that just might give your guy his next big idea or at least make his work day more fun. Enter below or on the MetroMomClub.com home page. Follow Metro Mom Club and Marbles the Brain Store on your favorite social networks and spread the word for more entries!
Oh Snap! You've never had so much fun being stressed out. This game uses a spring loaded tension bar to make collecting pieces from the game board trickier than meets the eye. If you cause the bar to "snap" forward, you lose your turn and don't get points for the piece that you removed. The bigger blue pieces are worth the most points but pose the biggest risk. This game not only challenges how you work under pressure, but also your comfort with taking big risks. So, it's pretty handy to have around at the office and for those usually boring hiring interviews. $34.99
Flingons are addicting magnetic little doo dads that make building seemingly impossible structures and shapes simple. These are awesome for guys who fidget at meetings and do their best thinking while doing something else. With 6 red and 6 blue, office competitions will no doubt ensue, too. They claim that, "This flingable, flexible magnetically-connectible fidget set will help fight off restlessness to promote focus, stimulate cognitive function and spark new ideas. " Maybe I need these, too? $29.99
Please note that by signing up for this contest, you are also subscribing to the Metro Mom Club Email list. We promise to not SPAM you or sell your information. We'll just let you know about future contests and keep you up to date on the raddest stuff happening on MMC. You can always request to be removed from our mailing list by responding to an email from us. Thanks!
Other desk toys for dorky dads: 
Osmo is an award winning invention that turns an iPad and any flat surface into a digital game unlike any other. The included mirror and the interactive app options take creating to a new level. From original works of art to tangram puzzles, you have to watch the video to get it but it's so much fun to play with and the possibilities are truly endless for Dad, Mom and the kids. $79.99
Revomaze A mystery maze that you have to solve without ever seeing what's going on. This will test even the most Zen dude on your list. Once you unlock the maze, you can pull out the center and see what you just navigated through. But, good luck remembering how you did it next time! $199.99
Playable Art Metal Cube Give your design conscious fidgeter something display worthy and practical. He can get his anxious energy out while tinkering with this infinitely malleable aluminum alloy sculpture whose pieces are connected with springs that make shifting the shape just difficult enough to feel like he's actually doing something. And, don't feel guilty about buying him a fancy desk toy; it's on sale now from $89.99 to $45
LittleBits Synth Kit Now with littleBits Synth, you can DIY some sweet music yourself! Anyone with little to no engineering experience or musical knowledge will be able to build their very own sound machine. $169.99
Desk Toys for Dad Giveaway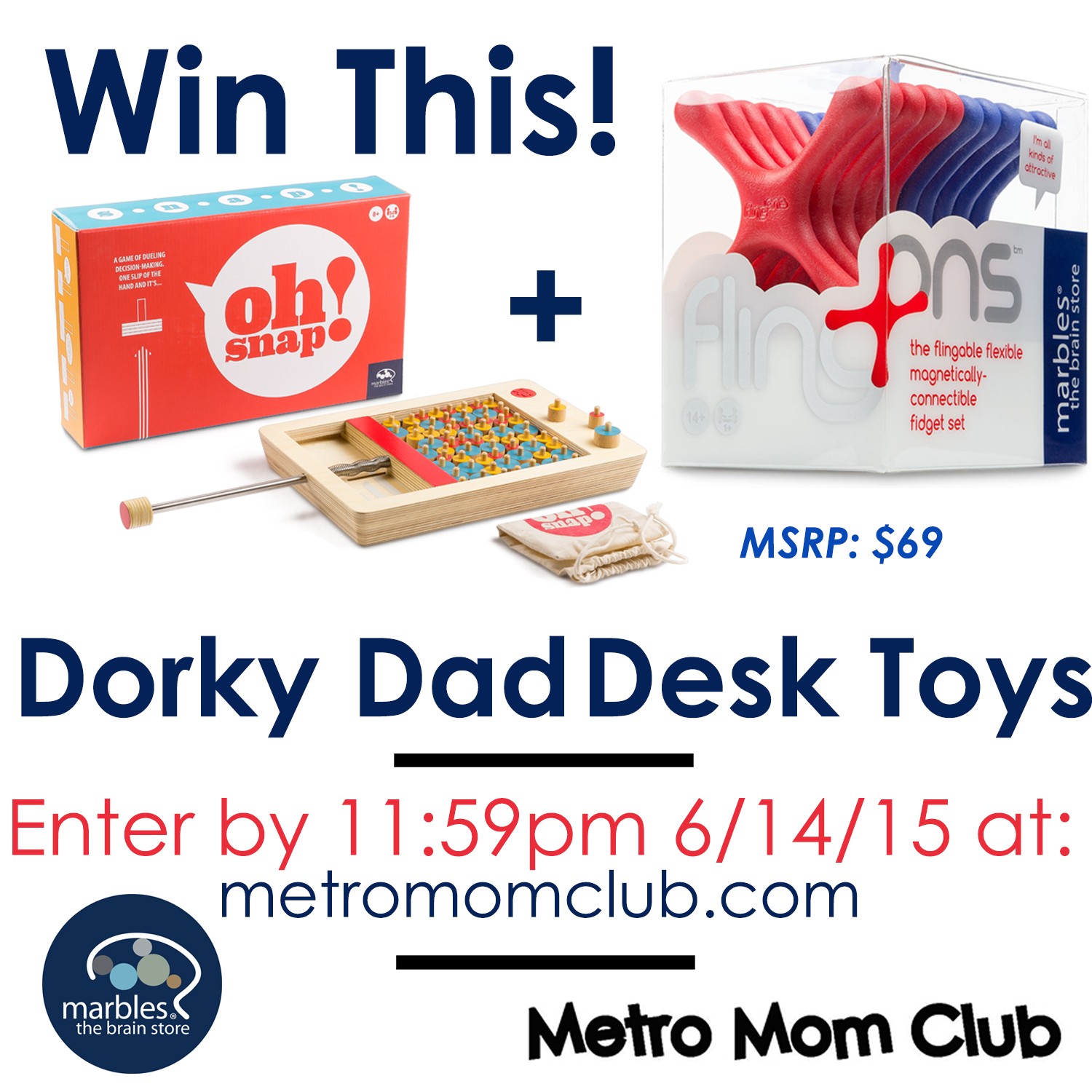 close
Contest Rules & Disclaimer
Metro Mom Club "Dorky Dad" GIVEAWAY

NO PURCHASE NECESSARY. INTERNET ACCESS & E-MAIL ADDRESS REQUIRED.

BY PARTICIPATING IN THE GIVEAWAY, YOU AGREE TO ABIDE BY AND BE BOUND BY THESE OFFICIAL RULES AND ALL DECISIONS OF SPONSOR, WHICH ARE FINAL AND BINDING IN ALL RESPECTS AND NOT SUBJECT TO APPEAL.


1. ELIGIBILITY. Open only to legal residents of the 50 United States and the District of Columbia, who are 18 or over. Persons who are not legal residents of the United States/District of Columbia should not participate in the Giveaway. Void in Puerto Rico and where prohibited by law. Employees, officers and directors and the immediate family members (parents, children, siblings, spouse) wherever they may live and others living in the same household (whether related or not) of such employees/officers/directors of Dana Holmes Media, L.L.C. ("Sponsor"), its parent company, subsidiaries, affiliates, divisions and their advertising, promotion or production agencies are not eligible to participate or win a prize.

2. GIVEAWAY SCHEDULE. Giveaway begins on 06/05/2015 at or after 12:01 a.m. Eastern Time (ET) and ends 06/15/2015 at 11:59 p.m. PT. Giveaway consists of one giveaway. The official clock of the Giveaway is Sponsor's computer.

3. HOW TO ENTER. First, enter using the form on www.metromomclub.com Then, for more entries: follow Metro Mom Club on www.pinterest.com/metromomclub – the official MMC Pinterest page, on Facebook www.facebook.com/metromomclub and/or on Twitter www.twitter.com/metromomclub . And, follow @TEGUToys on Instagram, Pinterest and Facebook; and @Tegu on Twitter. Then, share the contest with your social network using the #MMCTEGU and @mention both @metromomclub & @tegutoys or @tegu

**(If you do not already have a Pinterest, Facebook, Instagram or Twitter account, you may create one for free)

4. RESTRICTIONS ON GIVEAWAY PARTICIPATION. Any person who uses any device or artifice to participate in violation of the preceding entry limit will be disqualified. Giveaway participation must be effected via manual key-stroking; use of script, macro, robotic, programmed or like means of participation will void attempted entry and result in disqualification. Additionally, any attempt to interfere or tamper with the Giveaway, the metromomclub.com or danaholmesmedia.com web site or the metro mom club pages on Pinterest, Facebook, or Twitter will result in disqualification. Tampering includes but is not limited to the posting of comments about Sponsor, the Giveaway which are negative, disparaging or otherwise adversely affect the Sponsor's goodwill (as determined by Sponsor in its sole discretion.) In the event of a dispute over the identity of an entrant, entry will be deemed submitted by the Authorized Account Holder of the e-mail account associated with the entry used to enter the Giveaway. Sponsor shall determine in its sole discretion the identity of such Authorized Account Holder.

5. DETERMINATION OF WINNER. Winner will be selected via random drawing, to be conducted by Sponsor. There will be one random drawing consisting of all eligible entries received

6. WINNER NOTIFICATION. On or about the day of the drawing the potential winner will be contacted via email, using the email address used as his/her entry. IT IS THE POTENTIAL WINNER'S SOLE RESPONSIBILITY TO CHECK THEIR EMAIL FOLLOWING THE END OF THE CONTEST PERIOD TO FIND OUT IF HE/SHE IS A POTENTIAL PRIZE WINNER FOR THE GIVEAWAY. Failure to respond within 48 hours will result in disqualification. If disqualified, an alternate winner may be selected from among all remaining eligible entries received and the same requirements will apply to the alternate winner. In addition, winners may be required to sign and return an Affidavit of Eligibility, a Liability Release and a Publicity Release (where legal) within indicated time as a further condition of prize award. If potential winner fails to contact Administrator with 48 hours or claim the prize for any reason; fails to sign and return an Affidavit/Release (if applicable) within 48 hours; or is determined to be ineligible or otherwise not in compliance with these Official Rules, he/she will be disqualified and will forfeit the prize. In the event of disqualification, an alternate winner will be selected for the applicable weekly drawing from among all remaining eligible entries received for such drawing, as per Rule 5 above.

7. PRIZES/ODDS OF WINNING. Grand Prize – 1 set of Flingons & 1 OhSnap! game. All unspecified expenses in conjunction with acceptance and use of prize are the winner's sole responsibility. Prizes are not transferable. No prize substitution, except at Sponsor's sole discretion due to unavailability of prize for any reason and only then for prize of comparable value. Applicable taxes on prize are the sole responsibility of winner. Limit one (1) prize per family, household, address. Total value: $68.99. Odds of winning depend on the total number of eligible entries received for a given week's drawing.

8. LIMITATIONS OF LIABILTY.

a. In General. No responsibility is assumed by Sponsor for lost, late, incomplete, irregular, damaged, incomplete, garbled, corrupted, misdirected, illegible/garbled or otherwise unsuccessful attempts to enter the Giveaway, all of which are void. Sponsor further assumes no responsibility for (a) any computer, telephone, cable, satellite, network, electronic or Internet hardware or software malfunctions, failures, connections, availability or garbled or jumbled transmissions, service provider/Internet/web site/use net accessibility or availability, traffic congestion or unauthorized human intervention; or (b) any incorrect, incomplete or inaccurate information or materials, whether caused by web site users or by any of the equipment or programming associated with or utilized in attempting to enter/entering the Giveaway; or (c) any error, omission, interruption, deletion, defect, delay in operation or transmission, communications line failure, theft or destruction or unauthorized access to any web site or e-mail address/account. (The preceding includes but is not limited to any filtering by Pinterest, Facebook or Twitter.) Sponsor is not responsible for injury or damage to any person's computer related to or resulting from attempting to enter the Giveaway or downloading/uploading materials from/to any web site or e-mail address/account.

b. Force Majeure. If, for any reason, the Giveaway (or any part thereof) is not capable of running as planned due to any cause beyond Sponsor's control (by way of example only, computer virus, worms, bugs or tampering/unauthorized intervention), as determined by Sponsor in its sole discretion, Sponsor reserves the right at its sole discretion to cancel, terminate, modify or suspend the Giveaway and make the prize available for affected weekly drawing of the Giveaway from among all remaining eligible entries received for such affected weekly drawing prior to and/or after the action taken by Sponsor (as appropriate) or otherwise in a manner which is fair, equitable and in accordance with these Official Rules, as determined by Sponsor in its sole discretion. Notice of such action by Sponsor will be posted on the Metro Mom Club on Facebook.

c. RELEASES. Participant releases and agrees to hold harmless Dana Holmes Media, L.L.C., its affiliates, subsidiaries, divisions, advertising, promotion and production agencies and the directors, officers, agents, shareholders, representatives, employees, successors and assigns of any of the above entities, as well as Twitter, Instagram, Facebook and Pinterest, from any and all liability associated (directly or indirectly, in whole or in part) with his/her participation in the Giveaway, his/her participation in any Giveaway-related activity and receipt, acceptance, possession or use/misuse of prize. By accepting prize, where permitted by law, winner grants Sponsor and its designees the right to print, publish, broadcast and use, worldwide in any media now known or hereafter developed, including but not limited to the world wide web, at any time or times, the winner's name, portrait, picture, voice, likeness and/or other indicia of persona as news or information and for advertising, trade and promotional purposes without additional compensation, and without review, approval or further notice.

d. Additional Terms. Sponsor's failure to enforce any provision of these Official Rules shall not constitute a waiver of such provision. Should a court of competent jurisdiction find any provision of these Official Rules to be invalid, illegal or unenforceable, such determination will not affect the validity, legality or enforceability of the balance of these Official Rules and the invalid/illegal/unenforceable provision will be replaced with a substitute provision that is valid, legal and enforceable and most closely mirrors the original intention of Sponsor.

9. PRIVACY. Your provision of information in conjunction with participation in the Giveaway is subject to Sponsor's privacy policy. Participation in the Giveaway is also subject to one's compliance with all terms/conditions of use of Instagram, www.pinterest.com, www.facebook.com, and www.twitter.com including their Terms of Service. This promotion is in no way sponsored, endorsed or administered by, or associated with, Le Specs, Twitter, Facebook or Pinterest.

10. DISPUTE RESOLUTION/GOVERNING LAW. To the fullest extent permitted by law, by participating in the Giveaway, you understand and agree that any claim or dispute regarding the Giveaway or these Official Rules will be resolved by means of binding arbitration (NOT IN A COURT OF LAW), such provision being made a part of these Official Rules and incorporated herein by reference. In accordance with the "Dispute Resolution" provision, any claim or dispute will be resolved pursuant to New York State law.

11. WINNERS' LIST. For the names of prize winners, send a self-addressed stamped envelope to Dorky Dad Giveaway, 31 Broome Street 3rd Floor, Brooklyn, NY 11222. Requests must be received by 06/15/2015. Winners' list will be available after 07/01/2015.

SPONSOR: Dana Holmes Media, L.L.C.