Valentine's Day from Steamy to Sustainable
For those of you who are looking for something out of the ordinary to wrap up for your sweetheart, I have found an awesome array of stuff. Read on for Valentine's Day gift ideas for guys, the ladies and even something for both of you. Almost all of these gifts have an eco-conscious angle that makes them great for planet so, "Happy Earth Day" too!
If you haven't heard of them already, book mark them because they'll help you find the best stuff for guys that's Made in America. Here are a few awesome gifts for dudes for Valentine's Day.
NECKTIE Floral Bleu QP Collections
For the guy who isn't afraid to show his floral side, this skinny cotton canvas tie will make any button down shirt look much, much less stuffy. Designed and made in Utah, USA. 2.25" wide at its widest. $68.00
CRAFT YOUR OWN BITTERS Kit by Hella Bitter
This beautifully designed box is just a hint of the magic that's possible inside. If the guy on your list is a mixologist wannabe or just loves to make stuff, this is a gift that you both will benefit from. It comes with everything he'll need to make his own crazy flavored or classic bitters for balancing his latest cocktail concoctions. Made in Queens, New York. $ 64.95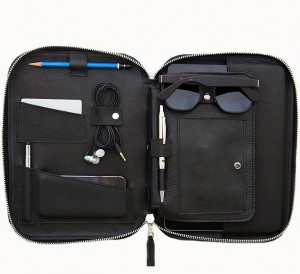 MOD AIR Black Ink This Is Ground
"A customizable case designed to satisfy a variety of lifestyles and professions through a magnetic spine that accommodates modular inserts. The shell includes interior wallet and phone pockets, stylus, pen, pencil or cord holders, slit compartments for an iPad Air (or similarly sized tablet) and an elastic strap to hold loose items in place." Designed and Made in Downtown Los Angeles. 10.5″x 7.5″x 1″ (closed) 16″  wide (open) $280.00
The Base Project supports Namibia by creating jobs and investing in community development projects with production and sales of fashion products in the US market. It's a cool concept, but the products are even cooler. Here are a couple of my favorites for Valentine's Day.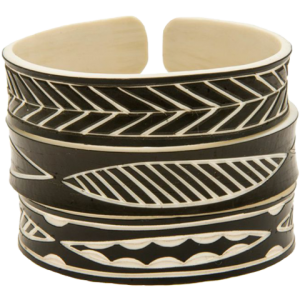 DEADVLEI, NAMIB DESERT, ORYX SET
A triple thread of hand-carved upcycled water pipe bracelets. The designs are inspired by the wildlife, ecosystem and history of Namibia. Each is 1.5cm wide. $66.00

Cast in brass and antiqued to highlight each bracelet's tribal design. Your bracelet generates income for an artisan and funds a child's education in his or her community. Wear Your Impact! Designed in Namibia, Handmade in the USA. 1.5cm wide $125
"Every three months you receive a box full of $150+ worth of world-changing products for women for only $49.95. Select the charity that matters most to you, and they'll give $7 every quarter."
Something for him or her…or both of you! What could be more romantic or adventurous than a lifetime of exploring the world's most beautiful oceans like a couple of fish? PADI stands for Professional Association of Diving Instructors® and with more than 6200  PADI Dive Centers and Resorts, and more than 136,000 individual PADI Professionals who have issued more than 23 million certifications around the world, you'll find PADI diver courses and scuba diving services nearly everywhere. Getting certified requires a written (multiple choice) test and a few tests in the water so you have lots of options for getting started. Do it online, at your local dive shop or go all out and book a diving certification vacation.
Everyone loses stuff. Some people lose stuff more than others (ahem, me). If your Valentine has trouble keeping tabs on valuables, hook them up with a Tile. "Tile is the smart companion for all the things you can't stand to lose." It's a slick looking little gadget that attaches to keys, suitcases, kids…whatever and makes them easy to locate using BLE (bluetooth low energy). This little bugger is worth its weight in gold.
Rev things up in the bedroom. [ENCLOSED] is as much a gift for the man as the woman…select a year, six-months, a season or a one-month subscription for some seriously sexy and luxe panties made of the finest materials. Make her feel anything but cheap. They come delivered in a bed of real pink and red rose petals within a bespoke hard-sided keepsake box. Sent directly to her, or to you to hand deliver.  $50 – $500