Best Of: Minou Kids
Minou Kids, oh Minou Kids, how I love thee! This online store has some of the most unique, wild, edgy, hipster kids clothes I've found. So I obviously couldn't resist sharing them with you. Occasionally a sale, or something so ridiculously amazingly awesome appears that I throw my new found budgetary caution to the wind and snatch it right up. Here are few that just beg for me to whip out my Visa card. See what I mean?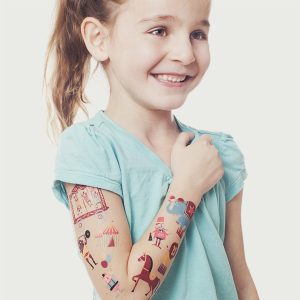 Each set of 8 non-toxic, vegetable-based ink, Made in the USA, FDA-compliant and fun for all ages includes the following designs by Ed Miller: Circus Elephant, Muscle Man, Circus Monkeys, Circus Lion, Circus Tents, Circus Clown, Circus Horse, and Ringmaster. $15.00
Dawa Jacquard Knit Jumper by Tootsa Macginty
Soft cashmere/wool blend charcoal sweater with the most adorable moon and stars embroidered on the front and a rocket embroidered on the sleeve. Buttoned neck opening for easier dressing and you can even throw this in the washing machine. This sweater is a crowd pleaser and makes a stellar gift! ha. $49.00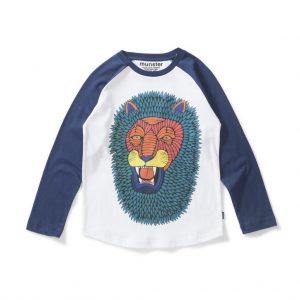 Mulga Long Sleeve Tee by Munster Kids
This geometrically sketched lion long sleeve tee will make any kid look tough. 100% cotton jersey white. $40.00
Crocodile Onesie by Mini Rodini
Not only is this one of the most amazing prints I've ever seen on a onesie, but it zips all the way from top to bottom, making it super easy to get on and off for diaper changes and layering in the cooler months. This is an awesome baby shower gift for any University of Florida alumni, or Floridian in general whether still living there or not. 95% organic cotton, 5% elastane Made in Turkey $85
Arrows Pocket Tee by Mini & Maximus
100% organic cotton makes this tee shirt super soft, but it's the heavy Sharpie-style drawn arrow design and black pocket that make it so, so cool. Made in USA. $28
Chiffon Body by Mini Rodini
All I can say is that I'm glad that I didn't have a girl (yet) because I would be spending SOOOO much more money on her than I do my little monkey. Yikes. This pink long sleeve chiffon body suit with bright blue fabric at the houlders and waist is cuter than a button. Snap closures make it easy to get on and off and she will look so stinking cute. 95% organic cotton, 5% elastane $52.00
Chat sweatshirt by Emile & Ida
Ooo La La! What's not to love about this 100% cotton sweatshirt with a cat face across the front? This will become one of her favorites as soon as she sees it. In fact, you should probably buy two so that you can wash one without a tantrum because you have to take it off. Made in Portugal.
Polka-cat Sweatshirt Dress by Omamimini
I love all things with an almost secret special touch. This little sweatshirt dress doesn't have your average polk-dots. No, no, no. It has little dots that are actually CATS! This is serious and stylish cute overload. Two side pockets. 100% cotton brushed fleece. Made in the US.
Pierrot Leggings by Mini Rodini
The ultimate "go with anything" leggings for little girls. I mean, as a kid, not matching IS matching, right? So, why not just pile on the most amazing stuff you can find and call it a day? These leggings are a great start. The drawings are rad and so is your kid. That's all you need to know.