How to Create a Romantic Family Dinner for Valentine's Day
It's never too early to teach your kids how to be romantic on Valentine's Day. At least, that's what I think! Sure Valentine's Day might seem like a hoax and a made up holiday. But when you have a family, times get hectic and you sometimes need a holiday to make you sit your butts down and all out LOVE on each other. And, as the mom of two boys I feel like it's my duty to help them learn how to treat their future significant other on this commercial but sweet holiday. It's not about just buying some thing. It's about showing love. So, a couple of years ago my 3-year-old and I conspired to put on a surprise romantic dinner for daddy on Valentine's Day. It was such a hit that we want to do it again this year. We took last year off because of the baby. Yeah, we're not perfect, but we try really hard! So, if you have kids and aren't planning on going out with your hubs or wifey on Valentine's Day, then here is how to create a romantic family dinner for Valentine's Day that will become a tradition that you LOVE forever. Awwww.
What you need to create a romantic family dinner for Valentine's Day:
1. An easy recipe that wows
Spaghetti and pre-made meatballs with garlic bread is on the menu for us! But, as the kids get older and more skilled in the kitchen, the sky is the limit with the recipes. You might even decide to make a fancy themed cake or dessert. Go for it! We're just eating boxed chocolates for dessert at our house until the kids are older.
2. A plan for decorations
Definitely DIY as much as you can.
Kids can cut, color, and assemble heart garlands, place cards, table displays (we're making paper roses to put in a vase, heart garland and heart confetti for the table). Pinterest is a treasure trove of crafty ideas if you need them. Or, just pick some up at the dollar store, drug store, or wherever you typically pick up holiday decorations. A bouquet from your favorite florist or gas station will do, too!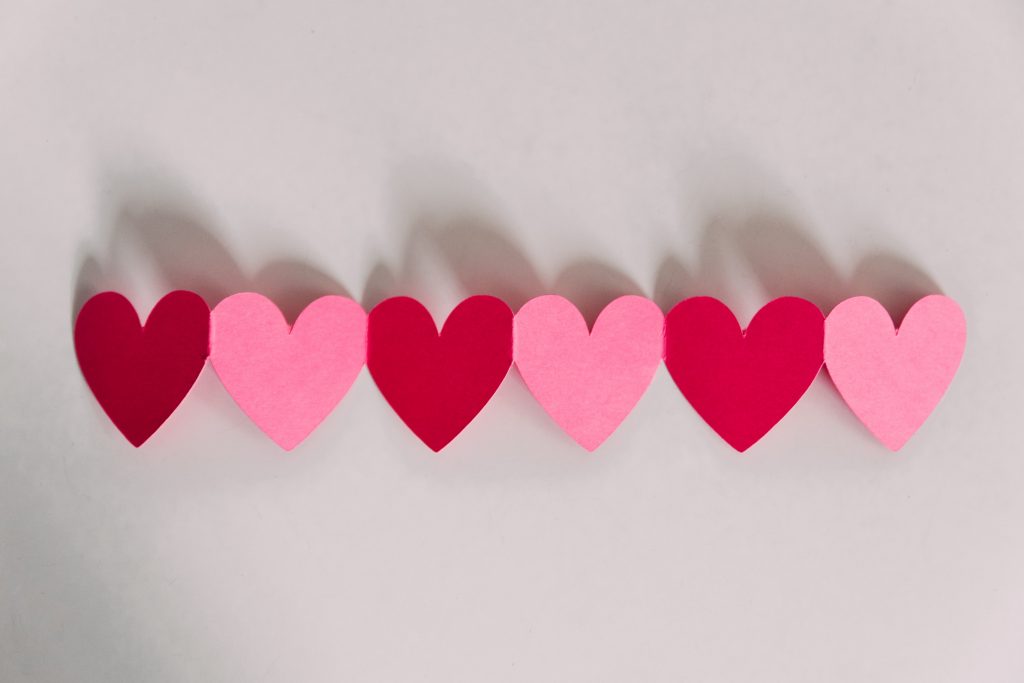 3. Candle light!
We're using romantic red apples to make candle holders. An apple core-er is actually perfect for tapered candlesticks! Just core the apple and stick the candle in the hole. Done! Or, you can scoop out the tops and drop in tea lights.
4. Hand-make valentines
There's something so fun about home made valentines. Make yours with markers, construction paper, collage from old magazines if you have them, whatever you can think of. Leave the valentines on each empty plate on the table as part of the decor before dinner. Every family member should make (or give) a valentine for each family member. Make sure to include at least one heartfelt reason why you love them!
5. Fold cloth napkins
Seriously. If you have cloth napkins this will definitely make your meal feel fancy. And, it's easy enough to throw them in the wash afterward. If you don't have cloth napkins, you can get some (they're cheap on Amazon) or fold your paper napkins! We use cloth napkins every day but we do not get into fancy folding on the daily. This is a great job for kids with the patience to watch a YouTube tutorial or two. Let the kids pick which fold to do and let yourself be surprised and their creativity and hard work.
6. Enlist help in the kitchen
Let the kids help cook and plate the meal. Little hands (with supervision) can be extremely helpful. You be the judge on what you feel comfortable letting them do. And, let them help set the table PROPERLY. This might also require a google image or YouTube search. And, if you're letting him in on the fun, Dad can help, too!
7. Plan enough time
This is supposed to be a fun thing, so give yourself time to enjoy the process. Plan out your meal and the things you want to make a few days in advance (like today!). Order what you don't have, buy what you need at the store and with spare time get started on prepping.
Our order of business is:
1. Determine our plan…what are we making and when?
2. Make valentines
3. Make decorations
4. Prep food if we need to
Day of:
1. Right after school start decorating
2. Get dinner started
3. Set table
4. Light candles
8. Give small gifts
I think that little gifts are best for this holiday. I picked up a sweet love themed book for each person and a small box of chocolates for each, too. The boys each get a red race car as an added bonus on their plates with my valentine.
It's less about it being perfect and more about it being done with heart. This is a great experience for the whole family. My three year old was so excited about it last time we did this and when I brought it up again this year he got even more excited. He's a total romantic at heart and I want to keep that alive! I hope to make this our family Valentine's Day tradition as long as they're all into it, too. And ..maybe a little longer….lol…like, FOREVER.
What's your family Valentine's Day tradition?