How to Curb Back to School Stress at Target
This is my first year doing real back-to-school shopping as a mom. I'm trying to channel the excitement that I remember as a kid. The thrill of a new pair of shoes and new school supplies still feels like yesterday in my mind. But, as a busy mom, I'm feeling pretty stressed about getting everything right in the limited time that I have to pull it off. Luckily, I have found a way to curb back to school stress at Target. Target makes it easy for me to shop trendy and practical back-to-school gear when and how I want to, whether I want to go to my local Target store, buy online or have my order delivered same-day right to my door. Disclaimer: I'm totally psyched that Target has graciously hired me to be one of their back-to-school spokespeople! So, you might catch me on your morning news talking shop on how Target has all of your back-to-school bases covered from Kindergarten to College. Yay!
I'm also here to offer some great tips to help parents and kids feel confident and prepared for the year to come.
Back-to-School Gear for School-Aged Kids
Luckily, teachers are by nature pretty organized and they send out a list of supplies and instructions to help us parents pull things together before the school year kicks off. Still, I can't help feeling like I'm going to miss the boat on something important. Like, really important.
That's why I'm pumped that Target offers School List Assist where schools register their supply lists directly with Target so that all you have to do is find your school in their directory and click to buy your kids' supplies. It doesn't get much easier than that!
And, they have some pretty sweet back-to-school clothes for elementary aged kids, too! They are always right on point at Target, or Tar-jay, as we like to call it in our house. It's so stylish that it deserves a French accent. Lol. You know you do it, too! Even if your kids have to wear a uniform like mine does…they still want to strut their stuff with a cool bag, shoes, and on play dates over the weekends and holidays!
Here are just a couple cute pieces for the kiddos from Cat & Jack™,  Target's in-house kids' fashion brand:
Long Sleeve Windbreaker Jacket by Cat & Jack™: $19.99
Short Sleeve Unicorn Dress by Cat & Jack™: $9.99
2018 Back-to-School Shopping Trends
My friends at Target are making it easier than ever for families to not just get the basics, but also score the hottest trends and styles from their awesome in-house brands like Cat & Jack.
Snatch up exclusive backpacks, lunch kits, locker and dorm décor, not to mention supplies from standby brands like Crayola, all at great prices. Think, $8 denim, $4 graphic tees, $0.50 and $0.99 supplies – and REDcard holders get an extra 5% off.
For Back-to-School this season, it's all about sophisticated styles and the themes of science, novelty prints, and positive messages. I'm talking anything space, unicorns, mermaids, tie dye, novelty prints like pineapples and reversible sequins are super popular.
Here are a few of my fave back-to-school supplies available at Target:
Splatter Start Backpack by Cat & Jack™: $19.99
Space Lunch Bag by Cat & Jack™: $9.99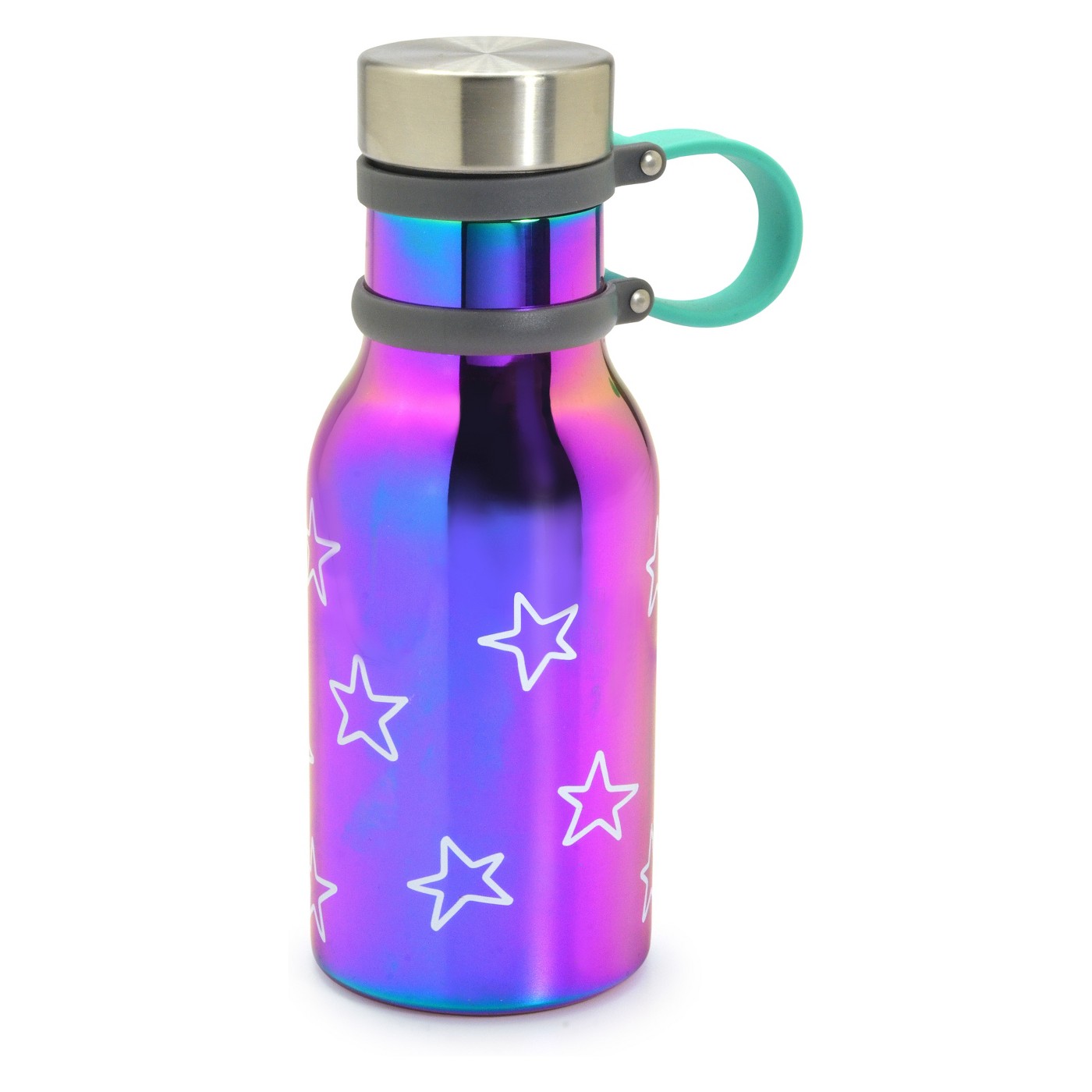 Stainless Steel 12oz Water Bottle – Cat & Jack™ Purple Stars: $9.99
Now, let's switch gears and talk about the college students.
College Back-to-School Shopping Tips
College students love to personalize their spaces, and Target's exclusive Room Essentials, Opalhouse and Project 62 collections have plenty of stylish décor options to choose from—like triangle-tufted pillows and decorative bookends to faux succulents and printed lanterns.
They have great décor at an incredible value. For example, Twin XL sheet sets start at just $9.99 each, and you can find comforters for $14.99. And, hanging pendant lamps for just $7.99!
Here are a few of my favorite College style supplies at Target:
Decorative Banana Bookends by Room Essentials™: $14.99
DIY Light Box Sign by Room Essentials™: $19.99
Icon Toss Jumbo Mug 26oz by Room Essentials™: $5.99
Cream Tufted Triangle Throw Pillow (14″x14″) by Opalhouse™ : $19.99
Faux Succulent Plant in Gold Pot by Project 62™: $14.99
Now the coolest thing is that Target now offers College Order Pickup. This allows you to shop the thousands of college essentials, like personal care items, furniture and décor on Target.com and pick them up at a Target store near campus when you arrive. Plus, you save 15 percent on nearly your entire order! I wish this service was around when I was a college student. You can order one week in advance and their gear will be waiting for them when they arrive! Now more schlepping across the country or getting to the store near campus only to find it totally picked over.
You can check out all these great options and more at target.com
Good luck with your back-to-school shopping. I hope that you and your kiddos have a great year ahead and that this post helps you curb back-to-school stress at Target!
And, if you're going back to preschool, too, be sure to check out our Preschool Back to School Routine Energizers!