Gourmet Summer Goodies For You and Your Family
Happy First Day of Summer! Summer is starting to arrive and what better way to get ready for beach vacations, visits to the park and outdoor BBQ than fun gift baskets and delicious foods? With help from Dean & Deluca, a company that specializes in beautifully packaged, luxury-quality food and kitchenware, I chose five products from this year's Summer catalog that are must-haves. Here are some gourmet summer goodies suggestions to get you ready for summer fun with your family.
Snacks for the Shore
Get ready for the Hamptons getaway, or any beach getaway for that matter, with this royal blue canvas tote. Along with the perfectly oversized tote, stashed away in it will come with D&D Mixed Nuts, Savory Seasoned Pretzels, Kettle Popcorn, Sanded Starfish Candies, Gummy Peaches, Sweet Fish, Prosecco Gummy Bears, Aged White Cheddar Popcorn and Beach Cookies. The perfect stock for beach snacking and can be reused over and over again for those family trips to the beach.
$160.00
Montauk Beach Basket
I love the look of this next bag. The Montauk beach basket is a smaller beach bag, but comes perfectly packed with loads of goodies. This beach basket provides a Heath Lavender Candle, D&D Flour Sack Tea Towel (Set of 3), Lemon Drops, Sanded Starfish Candies, and Chocolate Covered Espresso Beans. I appreciate the style and convenience this bag brings, and it's something that should last you for summers to come.
Price: $125.00
D&D Branded Cheshire Picnic Basket & Coffee Set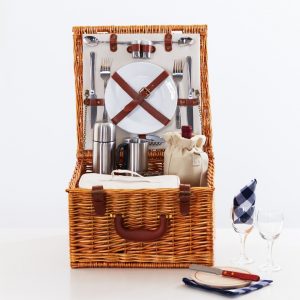 This next product is something from a nostalgic dream that brings you a classic English tea party vibe. The Cheshire Picnic Basket is a romantic set for two, that makes for those lovely outdoor outings in the parks or on the beach. Stocked with insulated coffee cups, a hardwood cutting board, stainless flatware, and the best part- wine glasses. I'd like to fall down the rabbits hole with this one.
Price: $190.00
D&D Branded BBQ Stainless Steel Master Grill Tools – 20 PC
Here is one for Dad. A gift almost too perfect for those outdoor BBQ's full of yummy food, nice weather, and those classic dad jokes around the grill. Dad's- this is the way to start the summer off right. This set comes with 20 brushed stainless-steel tools and is easy to carry and store away. Be the master of your grill, and don't let anyone tell you when to flip those burgers.
$99.00
Movie Night 
This last product is one of my favorites, as it is a great way to end the night with the family. The D&D Movie Night kit is packed with Kettle Corn, Gourmet Assorted Jelly Beans, Peanut Butter Milk Chocolate Bar, Milk Chocolate Raisins, Sanded Fruit Salad, Hickory Smoked Almonds, Quinn Snacks Vermont Maple & Seal Salt Popcorn, CC Made Madagascar Vanilla Caramels, and Bissingers Blueberry Acai Gummy Pandas. What better way to spend a night in with your kids, watching a classic with these as your snacks?
$60
What are some of your favorite products from Dean & Deluca? Please share!