Best Of: Vital Choice Wild Seafood & Organics
I love seafood. And, with a growing boy on my hands, I know that I want him to eat fish that will help his brain and body grow up to be healthy, smart and strong. But, that usually leaves me scratching my head over what's best? Once I research mercury levels, over-fishing, toxic fishing practices, toxic farming practices, local options and on and on…I'm left with a pathetically short list of insanely expensive seafood. While on my quest to expand my family's seafood repertoire beyond salmon, I found Vital Choice Wild Seafood and Organics. They collect the safest, most respectful seafood and some other yummy organic and whole-food stuff, too. Here are some of my favorites for you and your family.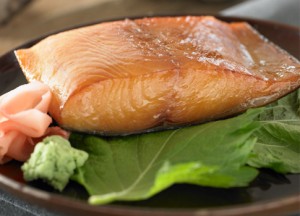 Smoked Sablefish http://www.vitalchoice.com/shop/pc/viewPrd.asp?idproduct=405&idcategory=218
Skin on, bone-in, also known as Black Cod or Butterfish. Loaded with Omega 3s; even more than salmon! And, it's one of the easiest fish to cook. Six 4oz servings $76
Wild Alaskan Sockeye Salmon & Halibut Combo 
"Both sustainably harvested from cold, pure Alaskan waters, with ample amounts of omega-3 nutrition and vitamin D, these fish make an exquisite pairing." Three of each 6oz portions $85
Grow naturally in the cold, clear waters near Kodiak Island and are known for a sweet and fresh flavor. "And they're rated a Best Choice for sustainability by the Monterey Bay Aquarium Seafood Watch." 1lb bag, 10-20 scallops $34
And, for future reference, here is the current list of fish that are safest for you and your family to consume according to the Natural Resource Defense Council.