Trend Alert: High Waist Bikinis
I know that it's hard to believe with the outside "feels like" temperature of -10 F, but spring is just around the corner. YAY! That means that it's time to start thinking about some new swim gear. As bittersweet as that feels as a mom who works out, oh, once every two weeks, we are in luck! This year, one of the big trends is high waist bikinis.  So, don't fret about your pooch that Pilates hasn't fixed post-partum. Just tuck it into one of these adorable bathing suits and head off to the beach with your family looking fabulous.
Kate Spade Georgica Beach Highwaist Bottom and Bandeau $174 for the set of classic, retro & cute.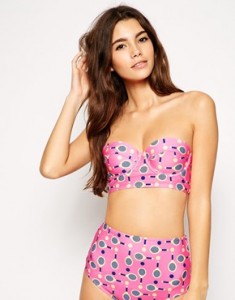 ASOS Retro Racket Print High Waist Bikini $62.39 for the set. I am a sucker for wacky retro prints so this couldn't be more perfect.
Trejoa Anna High Waist Bikini Bottom and  Twisted Bikini Top $131 Weird tan lines abound, but oh so worth it. This floral print is so romantic and contrasts with the cool cut. I wouldn't wear this on every beach day, but it's too cute to not mention.