NYC Date Night: James Beard Foundation Award Spots
If you're ready for a delish NYC date night without your little one, head to one of these 2016 James Beard Foundation winners and nominees right here in our humble (ha) backyard. There are 10 spots on the list so that means  you have almost a year's worth of monthly top notch food focused dates with your better half. I don't know about you but I miss being able to actually take my time eating and having a nice conversation with my husband. It's hard for me to remember the last time that I was able to truly appreciate the food that I was eating. Poring over the menu, sipping wine while I wait for the first course to arrive, taking a bite, savoring it, and taking another one, lingering for lingering's sake; all while having an uninterrupted conversation about things entirely unrelated to child-rearing. Wow. Writing this actually makes me kind of sad. I need to take my own advice! Yes, this post is my commitment to myself to get out and indulge in a little grown up fun. You should, too!
What's your favorite NYC date night spot? Please share.
298 Bedford Ave, Williamsburg, Brooklyn
Cuisine:Seafood and New American
Stop in for their famous drinks and stick around for their oysters and dinner menu. Yum. Oh, and sit in the garden! Dinner will run you about $30/pp and a drink costs an average of $14/each.
11 Madison Avenue @Madison Square Park, Manhattan
Cuisine:American
Famous for its perfectly pressed appearance and attention to detail in its dishes, this place is a more conservative and dressy destination worth visiting if you fancy doling out $295 per person for a seasonal 7 to 9 course tasting menu that can be customized to your preferences. The food is as fresh as it is beautiful and the service is is fantastic, hence the award.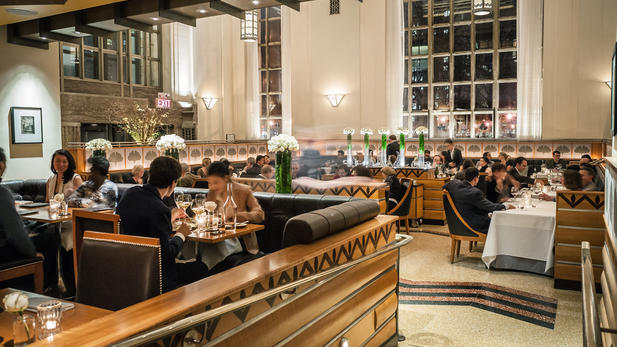 Cosme

(rising star chef of the year)
35 East 21st Street, Flatiron District
Cuisine: Haute Mexican
Cosme is the invention of Enrique Olvera, a Mexico City star chef who has found his home in NYC. He takes Mexican cuisine to places you've never imagined but with a familiarity that makes it all feel like a neighborhood mainstay. Prices can go way up if you're hungry. The whole fish is $45 and you have to try as many small plates as you can which range from $16 to $26 each. The great news is that they also offer lunch so you can cut the price in half and enjoy a day date with your boo, too.
Barbuto (best chef- NYC)
775 Washington Street, West Village
Cuisine: Italian Inspired
Chef Jonathan Waxman, aka the Eric Clapton of Chefs, heads up this sophisticated casual and inventive neighborhood Italian spot in an open garage space. Prepare to spend about $25 on an entree and to want to go back again and again. Lucky for you they serve brunch, lunch and dinner so you can try all three and then repeat.
James Beard Foundation Awards Nominated in NYC:
Daniel (outstanding pastry chef)
60 East 65th Street, Upper East Side
Cuisine: French
Exactly what you'd expect from an Upper East Side institution created by the world famous Daniel Bouloud. Walk into a stuffy atmosphere where you get art on your plate. They have an awesome selection of expertly prepared dishes an even have a vegetarian menu which is oh so rare in our currently meat crazed culinary world. 7-course tasting menu for $235 without wine pairings.
Lafayette (outstanding pastry chef)
380 Lafayette Street, NoHo
Cuisine: French
This place pays homage to the traditional French Grand Cafe and offers baked goods, and quintissentially French cafe fare that you will not be able to get enough of. I'm craving the Pomegranate glazed duck with daikon boulangeres (scalloped daikon radish) and bacon. They serve food just about any time of day with menus switching to fit the time of day every few hours, it seems. So stop by often and bring the kids.
Hearth (best chef NYC)
403 East 12th Street, East Village
Cuisine: New American
Open for weekend brunch and dinner, this place is a neighborhood gem that is perfect for a more low key but exceptional night out. The six-course tasting menu is only $78 per person plus $50 for wine pairings if you'd like. That's less than half the price of the tasting at Eleven Madison and practically half of the tasting at Daniel. And, you don't have to get all spiffed up if you don't want to.
Carbone (best chef NYC)
181 Thompson Street, Greenwich Village
Cuisine: Italian
New takes on traditional Italian fare in a 1950s retro NYC environment. Imagine your NYC native grandparents on a date in 1952. But, the food ensures you that you are comfortably settled right here in the 21st century. They serve lunch, dinner and cocktails. No pricing on the website so enter at your own risk.
Annisa (best chef NYC)
13 Barrow Street, Greenwich Village
Cuisine – American with Asian Accents
Intimate, sophisticated and secretly, or not so secretly, founded on girl-power by celebrated chef Anita Lo. Annisa means "women" in Arabic and Anita might be Asian but the cuisine here is experimental and based on American and French traditions and techniques. For example, seared fois gras with soup dumplings and jicama or pork belly confit with clams and padron peppers. What? Yes, it's good. Seven course tasting is $154 per person.
Blue Hill at Stone Barns (outstanding service)
630 Bedford Road, Tarrytown, NY
Cuisine: New American Farm to Table
Ok, it's not in the city. They do have an outpost on Washington Square Park but the real gem is heading upstate to their farm to table restaurant on the beautiful Rockefeller Estate in Pocantico Hills. Go early and spend some time walking the grounds and checking out the farm before dinner. The tasting menu is definitely the way to go to make sure that you get to sample the best of everything fresh from the farm. $238 for the tasting menu plus $158 for wine pairing. This is the kind of place that is worth the price but doesn't make you feel like you have to worry about manners and ruin the food buzz.
Are you hungry yet? Please do yourself a favor and put some of these on your date night schedule and report back on your experience! Who knows, maybe I'll see you there.
For more inspiration, you can see all of the James Beard Foundation winners for 2016. And, they have an awesome blog with recipes that you can whip out on a date night-in, too.
Bon Apetit!