Hanging at The Cliffs Long Island City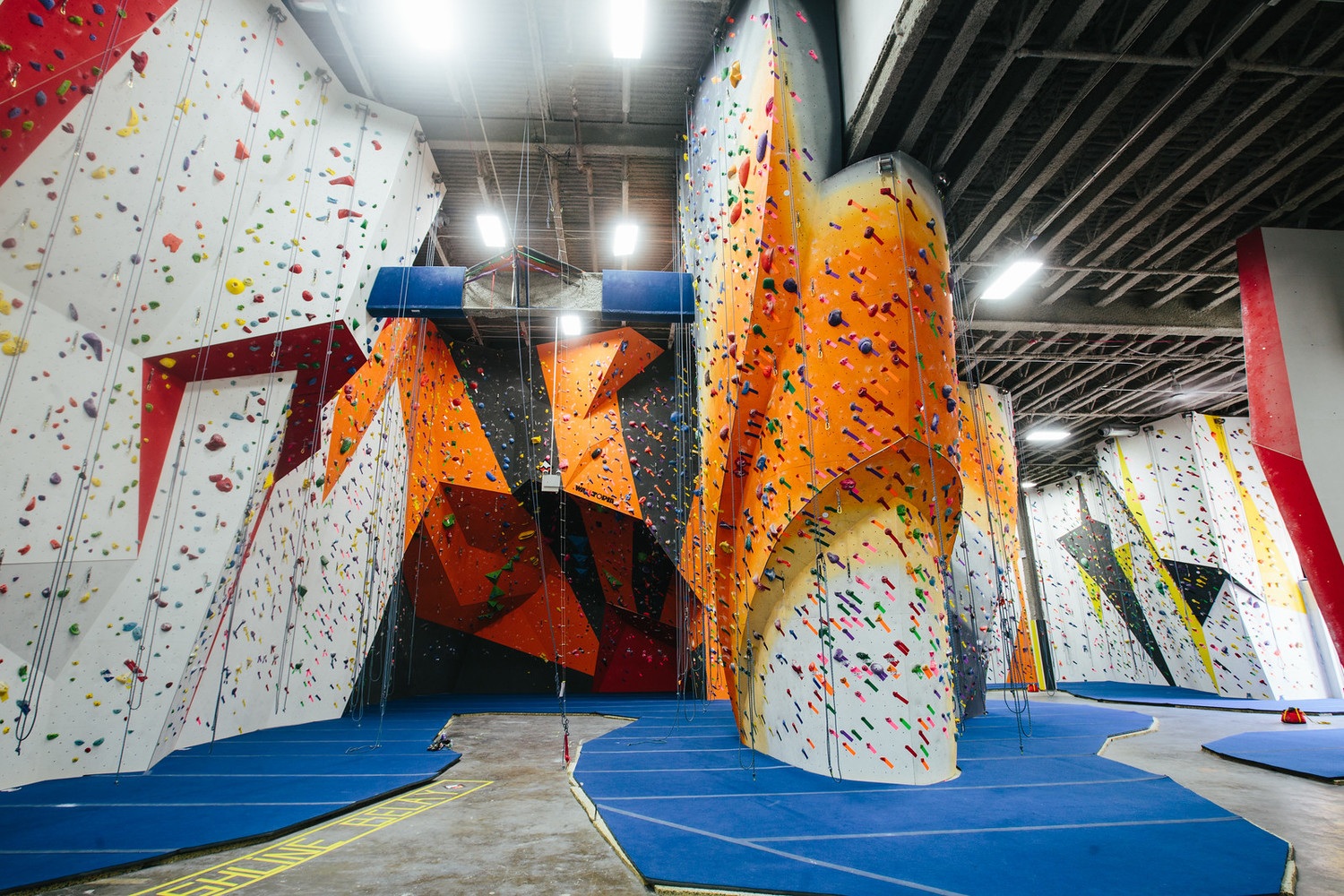 I just spent the afternoon flexing muscles that I didn't know I had and I loved it! One of my best girl friends shared a guest pass with me at The Cliffs in Long Island City and I'm so glad that she did. Rock climbing never really crossed my mind as something that urban people can, or would want, to do. But wow were some of these people amazingly, gracefully skilled at scaling walls. If you end up addicted, like so many do, they have kids' programs, too. That means you can turn your kiddo into a real life Spider-Man starting at age 6 and you won't have to get a babysitter for when you go to the gym because you can take him or her with you!
I'll be honest and say that I lasted about 30 minutes but my heart rate was up there and I got sweaty and it felt awesome. I had no idea that it would be so intense because it looks so simple when you watch other people do it. In fact, I watched a guy climb up the inside roof of a cave, literally hanging upside down, and looked like a leaf blowing in the wind. It was beautiful to watch. My friend who took me said she could just sit there all day with a bowl of popcorn and watch these amazing people climb and I can't help but agree!
For novices like myself, they have a "learn to climb" package for $149 that hooks you up with a one-month pass for unlimited climbing and gym access plus two classes: Climbing 101: Toprope Basics and either Toprope Movement or Bouldering Basics. It also includes all rental gear i.e. shoes, and you can convert your package at the end of the month to a full-on membership without having to pay the $99 initiation fee.
One thing that's totally rad about this is that it's not your typical gym. Sure, they have weights and treadmills and a stretching area. But you won't find anyone watching TV while working out here. People are there to meditate, to focus, to escape their minds and test their bodies. That said, it feels honest and inviting and not like they're all laughing at you for sucking like you might feel at a CrossFit or hard-core lifting gym. There are all sorts of people, all shapes, all sizes, all ethnicities, all ages. It's fun. You're climbing on stuff.
And, with hours like theirs, even busy parents like us can find times to hit it up:
Monday – Friday // 7AM – 11PM
Saturday + Sunday // 9AM – 9PM
In fact, this might actually make a totally rad Father's Day gift or Mother'sDay gift if you live in the area or have a climbing gym in yours. Just saying. We deserve to feel strong and in control of our bodies post-baby and rock climbing is a fun, adventurous and rad way to do it. For more inspiration check out The Cliffs on Instagram