Greenpoint Easter Egg Hunt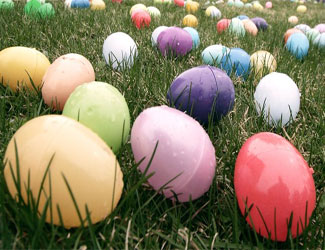 Sure, there's the Easter Egg Hunt for more than 500 eggs going on in McGolrick Park that's complete with live bands, spring-themed crafts, a parade and face-time with the Easter Bunny himself. But as a Greenpointer, I like things to feel more like a family gathering than a blowout block party. So, if you're like me and are looking for something a little more home grown and simple to do with your kiddo to celebrate Easter, without leaving the neighborhood, then put this on your calendar.
One heroic family is hosting a mega family-style Easter Egg Hunt in Greenpoint's Transmitter Park. Lauren Waters, visionary behind the event, says,
"We wanted to do something special for our growing baby/kid friendly BK community. Hopefully it will become a neighborhood tradition!"
Kids will search for more than 500 eggs full of goodies and can have some much needed outdoor playtime with a fabulous view of Manhattan and the East River. This is the perfect opportunity for neighborhood parents to meet and for our kids to make some new friends. I hope to see you there!
Here are the details:
Where: Transmitter Park in Greenpoint (see map below)
When: Saturday April 4th at around 10am
What: Over 500 eggs will be stuffed with fun goodies for the little ones
How to Join: Please join the Facebook event so that the hosts know what to expect!
What activities are you planning on doing to celebrate Easter with your munchkin(s)? Anything cool you want to share?