Best Of: Edgy Mom Style at OAKNYC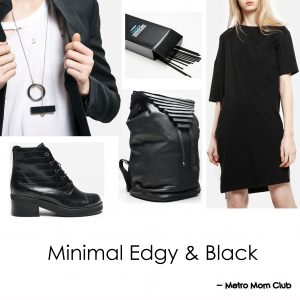 Swooping in to redeem myself after posting about the Best Of Talbots is a round-up of the best edgy mom style at OAKNYC right now. If you are unfamiliar, let me school you. They are the epicenter of edgy, cool, dark, light, new, now, with a vision of futuristic dance floors on planets with 24 hours of darkness followed by 24 hours of light. OAK is bad ass to say the least.
Don't ask about the music they're playing if you go into the store on Nassau Ave in Greenpoint, Brooklyn. If you have to ask, you're not cool enough to know. They aren't a store for moms. In fact, they're probably hissing at this post if they're reading it. But, since OAK is a few blocks from my apartment, I'm a regular. It connects my club kid, raver, goth self of yesteryear with my current desire to feel connected with what's happening and what's next. Upon walking in, I immediately feel like I'm my old self again and that having a baby doesn't have to change your style.
Now, to rub off some of the golden polish that I've just given it, I'll quote my best friend's interpretation of the place, "How many different kinds of black harem pants can you seriously sell?" So if you want to be a fashion victim, they've got you covered. If you want to find some wildly unique stuff, generally made in the USA, to layer with what you've already got…by all means. Here are a few of the things that I'm swooning over at OAK right now.
FAUX/REAL Esteban Finally Got Caught Necklace $286 Handmade in NYC and drops 16″ down the front. Perfect toy for your little one to tinker with (and you, too).
Collina Strada Novella Backpack Black This backpack takes the triangle trend to a totally rad level. It makes a great diaper bag, day back, or weekend away with the ladies bag. $600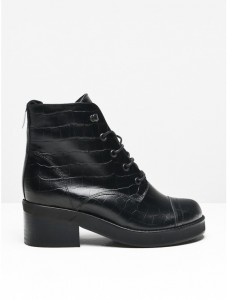 OAK The Pat Boot These suckers will make people take a second look at you pushing that stroller. Yes, you are cooler than they are and so is your baby. Leather and made in Spain. $235
OAK Long Drop Shoulder Tee $98 Black. You will see me in this aaaaaallllll summer long.
Comme des Garcons Incense. Yes you need this and your husband will like it, too. Get a few for housewarming gifts, hostess gifts and thank yous. Everyone will adore it. $48 for 40 sticks. Notes include cypress, coffee, teak, vetiver, patchouli, amber, everlasting flower and Virginian cedar.
Oh, and they're having a HUGE Webhouse 60% off sale if you dare to explore the deepest dimensions of their website.