The Best Products for Breastfeeding Your Newborn
There are a lot of benefits that come with breastfeeding from strengthening baby's development and immune system to helping mom lose baby weight; and all of that cuddling builds an amazing connection between the two of you. But breastfeeding is no walk in the park. Sometimes you experience soreness, dry skin, or you can't get comfortable where you're sitting. Maybe the shirt you decided to wear today wasn't meant for breastfeeding and you find yourself feeding your baby half naked in your living room. Or maybe it feels like your arms will fall off if you don't find a better way to support your baby. And, how do you capture and store all of that precious liquid gold that doesn't go straight into your baby? These little frustrations shouldn't add any extra stress to your life… you have enough already. Luckily, I found some of the best products for breastfeeding your newborn (and my second baby) from Milkies by Fairhaven Health, Kindred Bravely, Boppy and Glamourmom. So, as part of my series on surviving a second baby with style, I am giving away these awesome breastfeeding products to help you with breastfeeding your newborn just like they have helped me!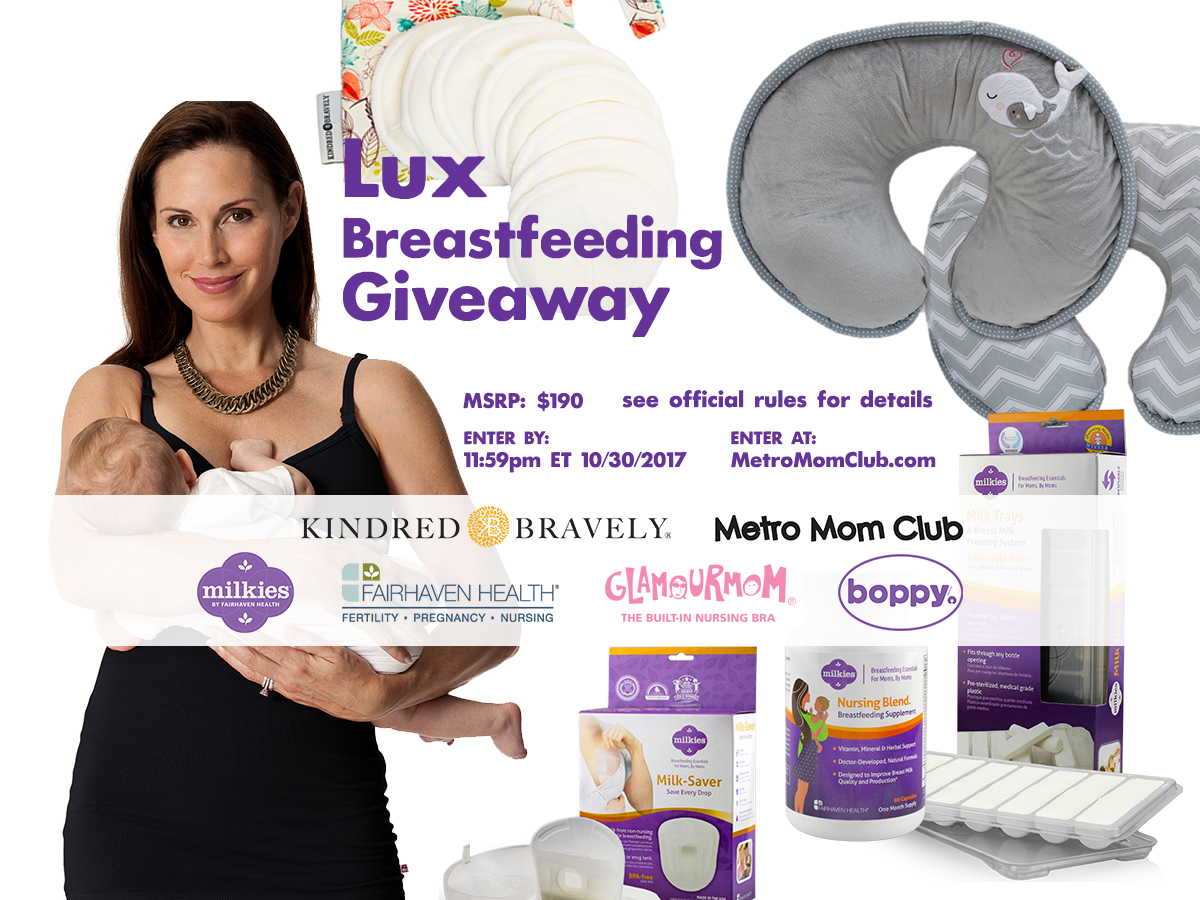 About the Best Products for Breastfeeding Your Newborn Giveaway
What you can win:
One Milkies Milk-Saver from Milkies $27.95
One box of Milk Trays from Milkies $19.95
One bottle of Nursing Blend Supplements from Milkies $28.95
One Luxe Feeding and Infant Support Pillow from Boppy® $50
One 8 Count (4 pair) Organic Bamboo Nursing Pads  with a carry bag from Kindred Bravely $14
One Nursing Bra Long Tank from Glamourmom® $49
Enter By: October 30th at 11:59 pm (EST)
Total MSRP: $189.85
Number of Winners: 1 lucky winner
Here's What You Could Win
I have to disclose that these products were sent to me for review, and they all really contributed to making breastfeeding much easier for me my second time around as a mother.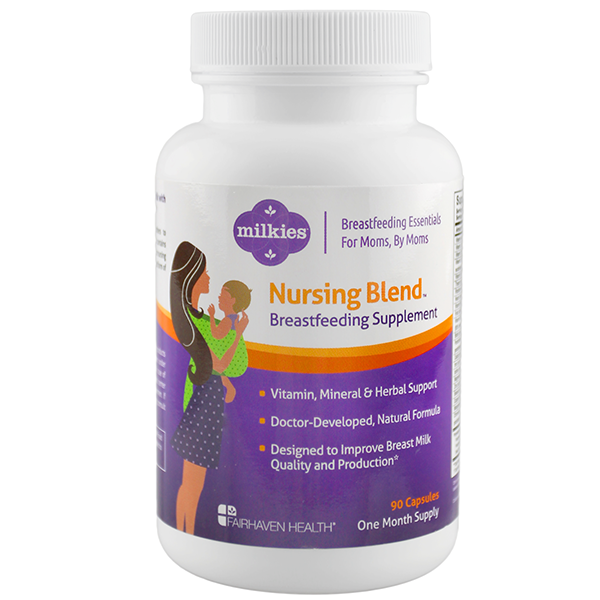 Fairhaven Health's Milkies products are absolute essentials for breastfeeding. I really enjoyed their Nursing Blend supplements as they provide support for producing copious amounts of high-quality milk along with providing those basic and extra vitamins and minerals that all mamas need! Seriously, my supply has had zero issues while taking these vitamins. But, as soon as I stop I feel like my supply is dropping and baby is super fussy. So, I'm just taking them through my whole breastfeeding journey to avoid supply issues like I had with my first baby.
The Milk-Saver is another favorite product of mine, as it helps with collecting all the breast milk that leaks out of one side while nursing on the other. It's pretty simple to use, as you just slide the saver in you bra to collect the milk that is leaked. Then you can pour it out into a bottle, bag or other storage container for later! I had no idea how much would leak out until I started using this. After a long stretch between feeds I can get almost 2 ounces! I attribute this also to the Nursing Blend.
The Milk Trays are a super convenient way for freezing, storing and measuring breast milk. By simply freezing the milk into these trays you create a perfect 1-ounce stick that can fit into any bottle size! This was amazingly helpful whenever I was out of the house and someone else had to feed the baby. We could take out just the right amount for the day and I would know for sure that nothing was being wasted. I also really like that these are reusable trays and I'm not putting all of those plastic storage bags into the recycling or trash.
The Boppy® Luxe Feeding & Infant Support Pillow was a game changer for me when my baby was about a month old. I did not use one of these with my first baby and thought, "a pillow is a pillow" and just used pillows from the couch. But, when I got the Boppy my world changed. The pillow wraps comfortably around your middle and lifts the baby up for better positioning while providing relief and comfort to your arms and back. While there is nothing wrong with adding a full arm-workout to your day, mom's already have enough body stress with all of the bouncing, carrying, etc. Plus, breastfeeding is the one time that guarantees that your baby stops crying, so you want to relax… and boy does this pillow provide comfort.
What I love the most about this pillow is that it's not just for newborns! This pillow will transition with your baby, supporting the different stages of development including; propping up, tummy time, and sitting up straight.
It's also just a super comfy pillow that should last you throughout the toddler years (I catch my four year old leaning back on it to read books all the time).
Kindred Bravely's Organic Bamboo nursing pads have been a life saver. It's hard to find a perfect breast pad that won't make it look like you have GG cup and that you don't have to throw away after each use. But these Kindred Bravely's pads are the Goldilocks of nursing pads with not being too thin or too thick or disposable…they're just right. They're also made of natural sustainable bamboo fiber so you can feel good about less waste, sustainable production and comfort. Woot!
I love how soft and comfortable they feel, and you can wash them and reuse them over and over again. The absorbency is pretty reliable to ensure no leakage. As long as they stay in place, they don't leak. They are also so soft that you generally don't even have to use nipple cream when you wear them, and they prevent chafing!
This multipack will come with 4 pairs (8 pads) in each pack, along with a cute carry bag.
This Glamourmom Nursing Bra Long Tank is super comfortable and pretty much necessary if you don't want to be chained to ugly nursing clothes throughout the recommended 6-months of breastfeeding. The easy click-open straps make it a quick and easy process to whip out a boob when the little one hungry and fussing. I love that Glamourmom® designed this to be a long-tank, too. It's perfect to wear under your favorite shirt. You can wear any shirt and just lift it up to feed your baby with this tank under it covering up your belly. And, when the straps come down there's a second layer there with a hole that baby will feed through so that you don't have the whole top of your boob out in public.
I love how the tank comes in multiple colors and all sizes. It is 92% cotton and 8% elastane, and is machine washable. I hang mine to dry.
Each of these are helpful and unique in their own way, but together they make the perfect kit of the best products for breastfeeding your newborn.
So, enter for your chance to win them! Good Luck!!!
Metro Mom Club Lux Breastfeeding Package