New Mom + Baby Must-Haves to Set You Up for Success
There aren't many things sweeter than infant snuggles and coos. In between the priceless moments, however, there is some serious lack of sleep and some very real what-am-I-doing-here-how-did-they-let-me-leave-the-hospital-will-they-ever-stop-crying moments. Whether it's your first, your fifth, or you're looking for ways to help new mom friends/family get through the beginning stages so they can enjoy the happy times, here are our new mom + baby must-haves that are sure to bring out the Wonder Mom in us all.
The gift of sleep
Trying to swaddle a baby while sleep deprived is the equivalent of trying to remove a toddler from a bounce house after they've consumed copious amounts of cake and ice cream. The Halo Sleep Sack is the easy, peasy, simple as 1-2-3 swaddle solution that won't make you feel like you're wrestling an alligator.
Newborn+. $28. Available online at http://shopstyle.it/l/mPQe
The Zipadee-Zip is a sleep miracle for little ones who are transitioning out of the swaddle or were never fans to begin with (we know, baby straightjackets). Awesome patterns like Surfing Sharks (extra appropriate since they were on Shark Tank), Made With Love (Cupcakes), and Giraffe Jungle will keep you smiling between all that shushing. Based on your locale, they have year-round, summer, and winter fabrics so you'll be singing Zip-a-Dee-Doo-Dah in no time.
Recommended for ages 3 months+. $32.95 – $38.95. Available online at SleepingBaby.com. If monograms (Southern staple) are your thing, they offer embroidery for $7.
Babies love their constant noise almost as much as moms love their zzz's (and wine). The Homedics Sound Spa helps them ocean, waterfall, or heartbeat the night away.
Ages 0+. $24.13. Available online at Amazon.com 
The gift of style
We are seriously obsessed with mommy + baby duo, Annie & Daisy. We adore the oh-so-fun Dance It Out onesie ($22) amongst their other cute and inspirational garbs. Plus, your kid will have an instant snuggle buddy bestie with the precious Heirloom Lucy the Boston Terrier Lap Blanket/Play Mat ($79). All eco-friendly and non-toxic.
Available online at http://annieanddaisy.com
Babies should be snuggled in all things soft and safe. Finn + Emma brings style and sustainability together (much like another love of ours, Amour Vert) to dress your little one in the sweetest outfits around while giving them toys you know are toxin-free. Our favorites are the Teething Ears ($22), Kimono & Pant Sets ($20 – 48), or if you're going with a theme, you can shop all by collection like fairytale, hipster, or arrow.
The gift of sanity
Life. Savers. From day one newborns will love staring at the high contrast black and white Art Cards from Wee Gallery. The cards will keep them engaged as they take in the beautiful animal designs. Cards are sturdy with rounded edges, so safe from stroller to crib.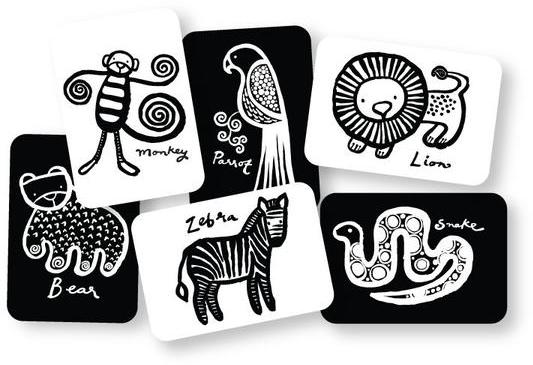 Ages 0+. $12.99. Available online at http://shopstyle.it/l/mPTy
While baby is taking a look at the cards, we had to add a little something in for mom, too. Hopefully your whole neighborhood set up a Meal Train that will last for months, but there is also the saving grace of OnePotato.com. Think quick and easy, organic, fresh ingredients delivered to your door that are actual customized to the size and dietary needs of your family (hello, toddler on an applesauce diet). Because let's face it, sometimes eating Mac n' Cheese for seven days straight isn't all it's cracked up to be.
Prices vary by plan. Get $20 off your first delivery with FIRST20 at checkout. Available online at https://onepotato.com
Cheers to the simple solutions that will help you enjoy every magical moment of new Mommyhood!