Last Minute Gift Ideas Under $100
You may have seen me on TV this morning, or you might see me soon! I'm doing a tour of 30 cities (via satellite) to talk about some easy last minute gift ideas for all of the hard to shop for people on your list like  your dad, your granddad and maybe even yourself. Surely you've already found amazing, stylish and unique gifts for the people you know best, but I partnered with a bunch of brands to help you wrap up your holiday shopping for the stragglers and the stockings, so here goes:
The key to finding affordable gifts is doing a little extra research. Do some digging online for discounts and free shipping, hit the stores when you know there's a sale, and focus on gift ideas that match up with what you know your friends and family actually like.
Let's start with holiday parties and stocking stuffers…
Both can be tough to find but Office Depot and OfficeMax stores have the exclusive Divoga brand fashion collections: Merry & Bright and Cozy Cabin. These make anyone's desk look more festive and functional. With everything from notecards to tablet sleeves, they're designed with stylish wintry colors and cozy patterns. These are part of the co-worker collection, which is the perfect dose of snarky wit and style for your friends and fellow colleagues. The best part is they're 25% off in Office Depot and OfficeMax stores throughout the season.
And, you might be surprised to hear that the National Retail Federation says 62% of shoppers want a gift card this holiday. They make perfect stocking stuffers! And you can "get" while you give at Red Lobster. Whether it's the hot Cheddar Bay Biscuits or the new bigger and better shrimp dinners, Red Lobster is a delicious way to celebrate the season. Right now, they're is offering Give a Gift, Get a Gift – for every $50 you spend on gift cards you will receive a bonus card good for your choice of $10 off or a free appetizer coupon. The Give a Gift, Get a Gift offer runs through December 31st and the bonus offer can be redeemed throughout January. You can't deny that a family friendly outing in the burbs is always a welcome gift.
And for the men in our lives…
Guys love practical gifts, and secretly or not so secretly love looking good, so check this out: Gillette Shave Club is perfect for any man in your life to keep him well-groomed year-round. Starting at less than $50 for the whole year, the subscription is customizable to include his favorite cartridges, handles, and determine the frequency of delivery. And you'll be giving him the high-quality Gillette shave at a value that's less than some of the other shave clubs.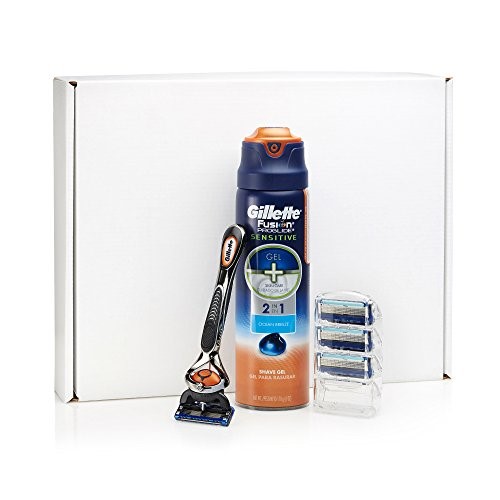 And, gifts for the perpetual commuter, explorer, or otherwise buzzer around town..
Make it easy for them to keep in touch! Get more bang for your buck at Cricket Wireless this holiday season with their affordable pricing. This Samsung Galaxy Grand Prime smart phone is perfect for those who want a premium brand without a premium price. And the best part is it's just $29.99 after a $70 rebate for bringing their number to Cricket!
What better way to spoil the perpetually busy coffee lover in your life this holiday season than with a mug designed specifically for commuting! The Contigo AUTOSEAL Metra Mug combines spill-proof technology with Thermalock insulation. Not only does it keep your coffee hot for up to five hours; the rotating CleanGuard lid protects the spout by keeping it clean and germ-free during daily commutes and busy mornings. It's the perfect stocking stuffer for $24.99