Gifts That Feel Good to Give
The holidays are here and, no surprise, many of us are still thinking about what to get our friends and loved ones. This year, we're looking to make it exciting to GIVE with some gifts that feel good to give.
We don't need to drop loads of cash to find the right present. In fact, the most meaningful gifts are usually the ones that require a little more thought, time, and creativity. I've partnered with some great companies to help you do that, fast! In fact, I'm doing a tour of morning TV across America on December 11th to fill you in on all the details. If you don't catch me on TV, or just want more info, you can get the scoop right here.
Gifts that Feel Good to Give
The holidays can be stressful and chaotic. What can we do to help keep ourselves and our loved ones get organized?
Staying organized during this time of year is crucial. With so much going on, it's super easy for us to find ourselves in a time crunch. A recent survey from Gladiator said that 86% of Americans wish they had more time for hobbies, friends and family. So, this year, when thinking about gifts, let's give back time, and focus on the activities that they love.
Gladiator, the leader in storage and organization for 15 years, has just unveiled a new line of GearTrack® Packs to help. These kits are really cool and have an amazing value! Each pack is an all-in-one kit with a mountable track and a variety of bins and hooks you can put almost anywhere in your house. They are super versatile, sleek, and easy to install. The Bike GearTrack® Pack is an innovative way to store bikes that eat up space in your house or garage, and the Sports Caddy GearTrack® Pack is a great way to quickly store all of that gear after a muddy pickup game. There's also a gardening kit, lawn care kit, and many more to suit anyone's passions or needs. You'd be amazed at all of the possibilities to help organize "me" time. Check them out on gladiator's website (gladiatorgarageworks.com) or at stores like Home Depot or Loews.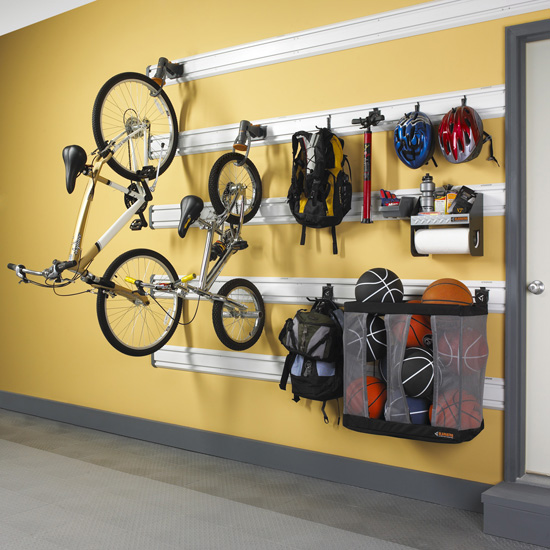 The holidays are traditionally a great opportunity to give back to those in need – what can we do this year to give back?
You're so right – the holidays are a great opportunity to give back to more than just to family and friends. The World Health Organization recently said that depression is the number one reason for disability worldwide. In fact, over 350 million people are affected globally. Finding new treatment options is crucial since 50% of patients do not respond to conventional therapies. Sadly, depression is still misunderstood and under-researched. That's where Hope Fragrance comes in:
Now, you might have already seen this written about on Refinery29 or Bustle but it's truly worth bringing up again here. Audrey Gruss, the Founder of the Hope for Depression Research Foundation or HDRF, created Hope, the Uplifting Fragrance, a beautiful white-floral scent to raise additional funds to accelerate research, and bring more joy to more people's lives. Each bottle sold is another step towards addressing this major worldwide issue. The best part is that 100% of profits will be donated to HDRF. This year alone, the foundation funded 3 new drugs that are now in clinical trials!
The inspirational story of hope fragrance makes it a truly meaningful gift for a loved one. You can give a candle, a perfume or a lotion available exclusively at Hope Fragrance for Depression Research at Saks Fifth Avenue.
What are some other ways that we can feel good giving this holiday season?
Spend less and give better gifts by using a Secret Santa Service like Elfster that incorporates a universal wishlist that lets you add what you want from anywhere on the internet to make sure that you get what you want. You can also set spending limits for your exchanges and let Elfster choose who gives to who…keeping family drama to a minimum!  Elfster also has partnered with Toys for Tots to help make the holidays brighter for everyone. This is great for large families, offices, and other social groups. Because you only need to buy for one instead of many, and you have access to a list of things they want, you can surprise them with something a little more pricey that they will LOVE without blowing up your credit card balance.
You can also look for products that give back either with a Buy One Give One program or charity association like Bears for Humanity or World Wildlife Federation symbolic animal adoptions. It definitely feels good to know that a gift you gave helped feed children in need or care for our endangered species and Earth.
Happy holidays!