Celebrating Earth Month with Environmental Childproofing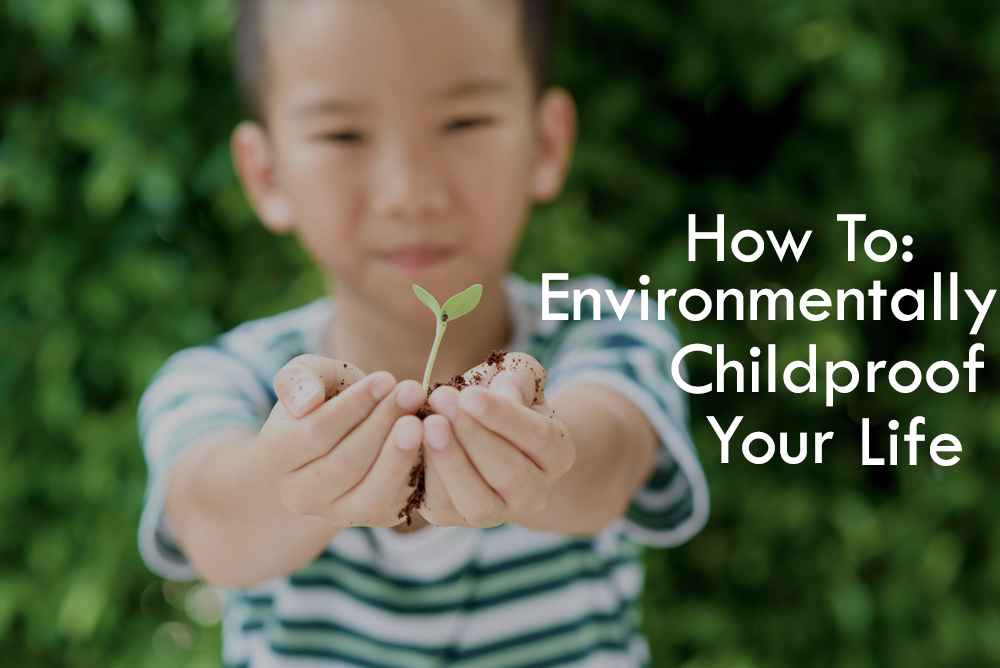 When it comes to my boys health I always take the better safe than sorry approach. Exposure to toxins in foods, cleaning products or other areas can have long term effects on the developing child. Scientists still don't understand the full effects of these chemicals but there are simple steps like the ones mentioned here that you can take to help protect your family. Think of it as celebrating Earth Month, Earth Day and every day with environmental childproofing.
Here are some tips for creating a sustainable home and raising children to care about the environment through environmental childproofing:
1. Volunteer
Actions speak louder than words. Model for your children that protecting the earth is important by volunteering with them in environmentally friendly projects.
2. Choose organic foods
Choosing the right food for your family has never been easier. Start your kids off right by using organic ingredients early on for first foods. It's great if you are making your own baby food, just choose organic ingredients. If you are buying baby/kid food choose any of the organic tasty options that expose little ones to a variety of tastes and textures like Ella's Kitchen. As most of us know, organically grown foods are foods that are grown without use of fertilizers, genetically modified foods, radiation or synthetic pesticides and these foods are naturally non-GMO.
3. Create a sustainable bedroom for your little one
When choosing the paint and furniture for your child's bedroom, make sure your choices are free of harmful chemicals. Look for products that are VOC-free and open the windows after painting. The same mindful choices go for everything in the room – including your crib mattress. As babies grow and rollovers happen, it is important to look for a 'breathable' mattress vs. organic. Choose a mattress that is made from food grade polymer and 90% air like The Wovenaire Crib Mattress by Newton, which is 100% sustainable and better yet, washable. Conventional, and even organic mattresses, are typically covered with a waterproof cover that contain PVCs that your child is breathing in so it is important to choose a mattress that does not off gas any noxious chemicals.
4. Avoid harsh chemicals when cleaning your home
Conventional cleaning products are filled with chemicals that are known respiratory toxicants, allergens, neurotoxins and carcinogens. It's not healthy for you or your children to regularly breathe in. Choose products that are formulated with plant-based ingredients and that disclose all of their ingredients. Are you a do it yourself kind of gal? Fill a spray bottle filled with equal parts water and distilled white vinegar. Non-toxic and effective!
5. Choose carefully with soaps, detergents and lotions
Choose fragrance free products for washing you little ones clothing. The fragrance in many products can contain harmful chemicals and irritate your little ones skin. Two of my favorite products are skin fix and dove sensitive skin body wash.
6. Avoid Plastic Containers
Many types of plastic bottles or food storage containers, both disposable ones and reusable ones, contain synthetic chemicals such as BPA and other toxicants. Go for glass or stainless steel both of which to not emit any gasses or chemicals. When storing or buying baby food, glass or stainless steel containers are great. Sometimes, for a busy mom on the go, glass baby food jars work, but pouches are actually also recyclable – I know Ella's Kitchen and some other brands work with Terracycle. You are helping the earth, protecting your children and you can also save money as well by not buying disposable plastics.
Having been a parent and a pediatrician with three boys, I have seen products change and seen the world move into a more environmentally friendly place to raise children. With each of my boys I find myself seeking out more information about creating not only a healthy environment for them to live in but also modeling the message that we need to protect our environment and respect it. I have become a more earth friendly mom and this transfers over into the advice I give my patients about creating nurseries that are earth friendly, avoiding bringing potential toxins into your home, avoiding harsh chemicals in cleaning products, and eating more organic and sustainable foods. I hope that some of these tips here are simple and appealing enough for you to incorporate into your family's lifestyle for Earth Day and every day.
This post was written by Dr. Deena Blanchard, Premier Pediatrics NYC
Deena Blanchard MD, MPH is a board certified pediatrician working at Premier Pediatrics. Dr. Blanchard joined Premier, after completing her residency training at Columbia University. There she served as a physician advocate for families as part of the family advisory committee and was awarded physician of the year in 2007. Prior to going to medical school she completed a Masters of Public Health at Temple University with a specific focus in health education. Dr. Blanchard attended medical school at Albert Einstein College of Medicine where she was awarded both Alpha Omega Alpha and the American Medical Women's Association Glascow-Rubin Achievement award.
Premier Pediatrics is an established pediatric practice with locations in Manhattan and Brooklyn. We have been tending to the health of NYC children for over 30 years. We gladly offer prenatal visits free of cost at both our offices. To schedule a visit please call 212-589-0331 or 718-369-0817.
Dr. Deena Blanchard serves as a pediatric expert for brands including Ella's Kitchen and Newton.
What do you do to make your family's life more sustainable and environmentally childproof? Please share your ideas here so that we can do it, too!