Best Of: Tea Collection Kids
I just got the latest Tea Collection catalog and couldn't resist picking out a few of their greatest hits. Although they tend to be a little too "gypsy" for me in general; they do have some adorable clothes for kids that are well designed, well made and fun for the kiddos to wear. This season's catalog is inspired by India's vibrant colors and diverse climates and terrains. Tea Collection is a catalog that takes its inspiration from style and culture in the farthest reaches of the globe and is based in San Francisco. They're pretty hip and crunchy and I love them.
Patchwork Tile Romper $32 Triangles, cute little triangles, everywhere…see my post about the Geometric Design trend to get you, your house and your next party in on it.
VANS Checkerboard Slip Ons for Babies and Toddlers $30 Yeah, you know you want to so just do it. These make any toddler look so tough.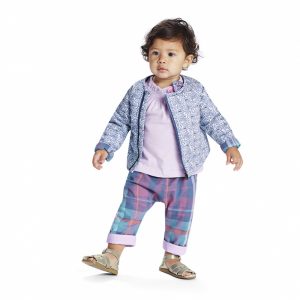 Stitch Society Madras Baby Lined Pants 3mo-4T $35 SO STINKIN CUTE!
Harina Photo Tee $26.50 Who doesn't love a baby deer? Just in case you don't, they also have shirts with  photos of a lemur and a field of marigolds. They're beautiful and fit girls age 2-12.
Skinny Moto Pants $39 Size 2 and up. Not for babies, but worth a mention! They're made from cotton spandex so they're stretchy and comfy and built to last. And, they come in this awesome hot pink color, too!